Introduction of tire crusher equipment
Time:2020-12-08 11:04 Author:Suny Group
Scrap tires can be divided into car tires & truck tires, bias tires & radial tires, pneumatic tires & solid tires according to different classification methods. After the tire is broken, solid waste can be recycled through regeneration processes such as cracking oil refining, cement kiln coordination, and grinding. After disposal, renewable resources such as fuel oil, carbon black, steel wire, and rubber powder can be produced, achieving a win-win for economic and environmental benefits.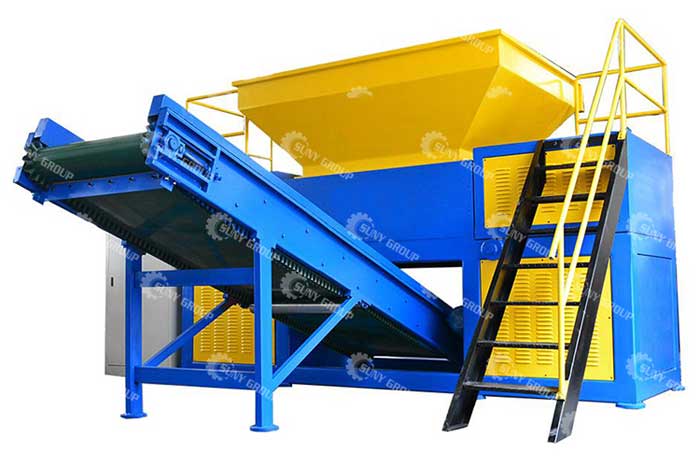 Product advantages:
Modular design, small footprint
The equipment line follows the principle of reasonable and intensive land use. It adopts a structural design combining a dual-shaft shear crusher and an annular roller screen. The reasonable layout can ensure that the output and discharge size meet the requirements, and also meet the customer's tire disposal and production and Operational planning and construction needs.
Integral tool box design, stable and reliable
After heat treatment, the tool box is strong and wear-resistant, ensuring good mechanical strength, prolonging the service life of the equipment, and effectively reducing maintenance costs.
The fixed knife is independent and removable, with strong wear resistance
Each fixed knife can be disassembled and installed independently, and can be disassembled quickly in a short time, greatly reducing the workload of workers and improving the continuity of production.
Unique tool design, easy to maintain and replace
The tool raw materials are made of imported alloy steel, which has a long service life and good interchangeability, which is convenient for later maintenance and tool replacement.
The main shaft has high strength, fatigue resistance and impact resistance
The main shaft is made of high-strength alloy steel. After repeated heat treatment and high-precision processing, it has good mechanical strength, strong fatigue and impact resistance, and long service life.
Imported bearings, multiple combined seals
Imported bearings and multiple combined seals are used, with high load resistance, long life, dustproof, waterproof and pollution-proof, ensuring the continuous and stable operation of the machine.
Tags:
If you have any requirement or suggestion, please fill in the form and send to us, or contact us by E-mail:sunymachine@gmail.com,thanks!