One for one servo electric inner ear four edge high speed medical mask machine
Time:2021-03-08 10:33 Author:Suny Group
1. After years of production practice and technology accumulation, we have taken the lead in forming a complete mask equipment production system in the industry. According to market demand, our self-produced one-to-one servo electric inner ear four-wedge high-speed medical mask machine has been applied to the first line of production in batches.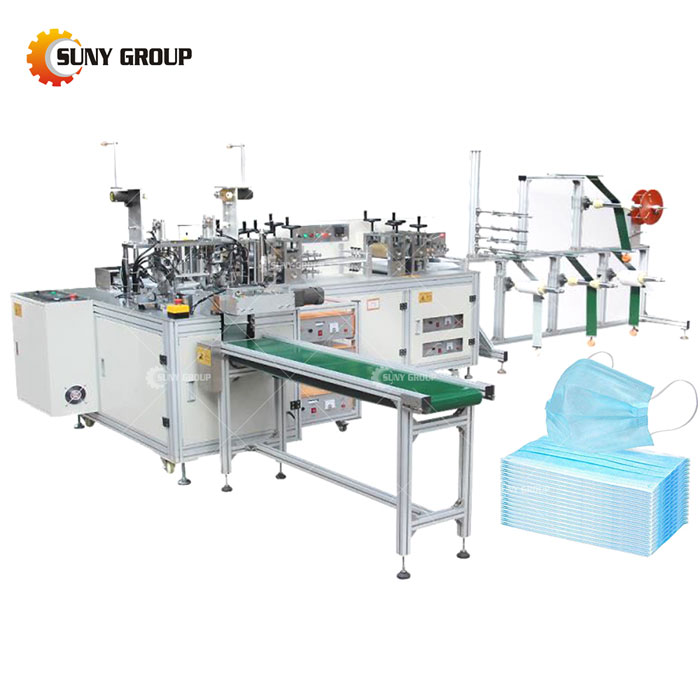 This model completes the automatic welding of ear cords and edging at one time. During the entire production process, only one person can complete all operations. It is the current advanced and stable production method of masks. The perfect combination of automation and mechanization greatly improves production efficiency.
The key components are welded with first-line ultrasonic brand, with fast welding speed, long service life, stable and reliable operation. Spot welding heads, welding plates and other parts are made of special materials with reasonable proportions, and the welded masks meet national standards.
Because the equipment selects reasonable ratio of components and raw materials, plus our precise processing and assembly, and 100% debugging and small batch trial production before leaving the factory, the equipment can be put into production quickly when it is energized.
Features:
• Reasonable structure, stable operation and convenient operation.
•Using ultrasonic welding technology, the finished product is beautiful, hygienic and environmentally friendly.
•The equipment frame is made of aluminum alloy, which is rust-proof, durable, easy to clean and beautiful.
•PLC programming control, servo drive, high degree of automation. High stability, low failure rate and low noise.
•Cloth inspection, mask in-place inspection, ear strap feeding inspection, etc.
2. Applicable materials for equipment
Non-woven fabrics, ultra-fine and ultra-fine polypropylene fiber melt-blown cloth, ultra-thin polypropylene melt-blown cloth, sanitary gauze, calendered cloth, activated carbon cloth, filter paper and other non-woven materials can be used for mask production with this equipment.
3. Applicable products
Suitable for 3-layer flat mask (mask specification 17.5*9.5cm)
Four, equipment parameters and electrical list
Basic parameters of equipment:
1. Equipment size: 4200*3200*1980mm;
2. Compressed air: 0.5-0.8MPa, use flow: about 400L/Min;
3. Power supply: 220V, AC±5%, 50-60HZ;
4. Equipment power: about 10KW;
5. The equipment intake pipe diameter is 10mm;
6. Ground load: ≤500KG/m²;
7. Width of melt blown cloth: ≥175mm;
8. Width of inner non-woven fabric: ≥175mm;
9. Width of outer non-woven fabric: ≥195mm;
10. Width of edging cloth: 20mm;
Tags:
If you have any requirement or suggestion, please fill in the form and send to us, or contact us by E-mail:sunymachine@gmail.com,thanks!