Crushing separation and sorting process of electronic garbage recycling equipment
Time:2021-12-03 10:46 Author:Suny Group
The whole line structure and process flow of circuit board recycling equipment: The circuit board processing and recycling production line is mainly composed of shredders, crushers, pulverizers, air specific gravity separators, high-voltage electrostatic separators and other auxiliary equipment.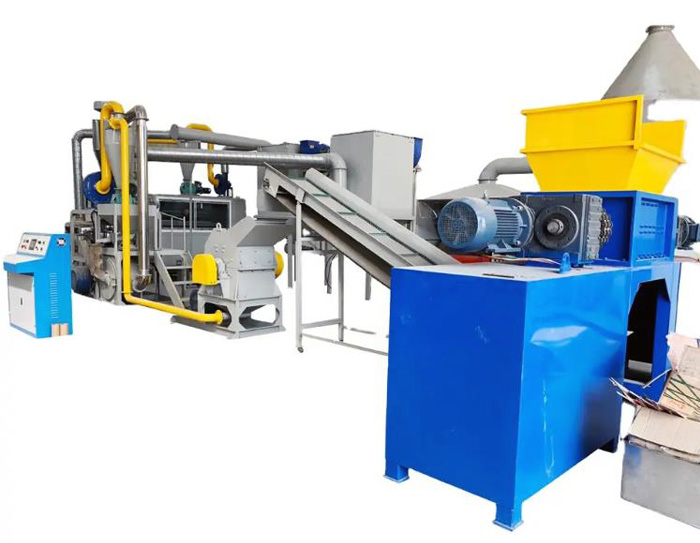 Put the waste circuit board into a crusher, and use a roller crusher (first-stage crushing) to roughly crush the waste circuit board, so that the circuit board is broken into about 4CM size material, and then enter the belt conveyor. The magnetic separator on the conveyor separates the iron in the material. The remaining material will be sent to the secondary pulverizer by the conveyor for pulverization, making it into a powdery metal and resin fiber powder mixture; the pulverized material is Under the action of the negative pressure fan, it enters the No. 1 cyclone separator, and the outer cyclone airflow settles on the vibrating screen of the airflow separator, and the light resin powder will enter the cyclone separator. In the pulse dust collector. Under the action of wind and vibration, the materials entering the air separator are separated into metal powder materials and resin powder materials to obtain copper, resin powder and semi-finished products. Among them, the obtained copper has a purity of over 85% and can be sold directly.
Waste circuit boards apply circuit board recycling equipment to the industrial treatment of electronic waste. The circuit board recycling equipment crushing and separating device can crush and sort waste circuit boards, copper clad laminates and other electronic waste. It has different levels of complex raw materials and different metals. The raw materials can be processed, the recovery rate is high, no waste water and smoke emission, not suitable for chemical soaking, green and environmental protection, sustainable development!
Tags: