Can the waste wire be cleaned with a cable wire recycling machine?
Time:2019-11-06 14:57 Author:Suny Group
Those who have contacted the waste wire recycling related industries are not unfamiliar with the cable wire recycling machine. As a common waste wire and cable crushing and sorting recycling equipment, the cable wire recycling machine can be recycled for various wires and processed inside. The plastic and copper are completely separated to obtain pure copper rice, which can be sold directly or processed again.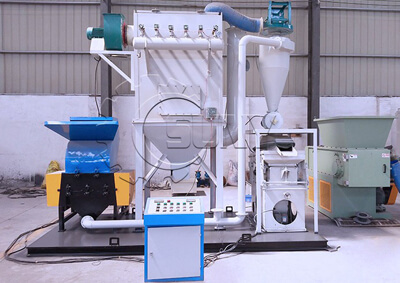 The cleanliness of the cable wire recycling machine is always one of the important indicators to measure the quality of a set of cable wire recycling machine. For some good cable wire recycling machines, the sorting rate can reach more than 99%, so that it can basically satisfy the customer. Cancellation to maximize benefits.
In addition, different lines need to be debugged several times to achieve the best results, so the cable wire recycling machine is generally customized according to customer needs, such as the type of line, output, etc., so that not only can the separation effect be better. And avoid unnecessary waste.
SUNYGROUP is a professional cable wire recycling machine manufacturer, which can be customized according to the needs of customers, and combined with the actual needs of different customers to debug the equipment, in order to achieve the best results. In addition to the good separation effect, but also has high efficiency, small footprint, no pollution, after-sales protection and other advantages, by the customer's praise and trust.
Tags:
If you have any requirement or suggestion, please fill in the form and send to us, or contact us by E-mail:sunymachine@gmail.com,thanks!