Portable Wet Wipes Making Machine
ZY series wet wipes production line is used to produce disposable household cleaning wet wipes or baby wipes...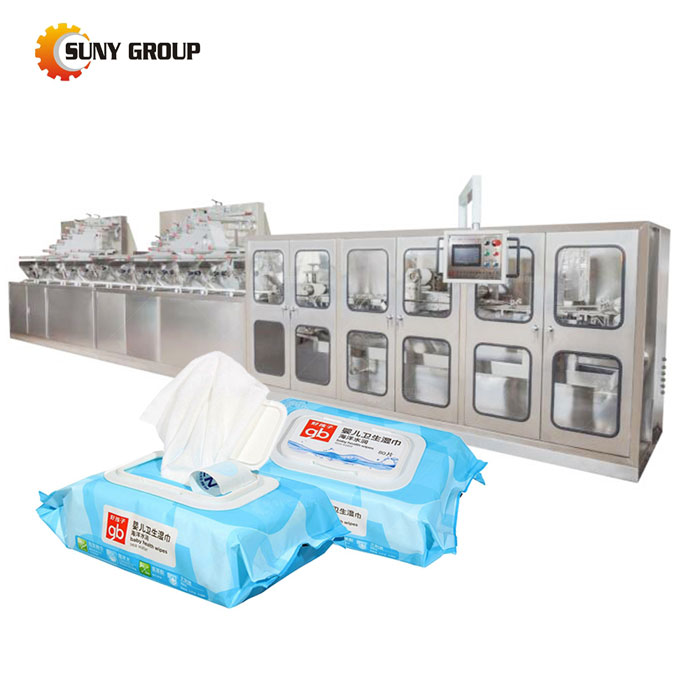 ZY series wet wipes production line is used to produce disposable household cleaning wet wipes or baby wipes. Fully automatic wet towel production equipment can meet the needs of enterprises for high production capacity, and multiple models of products can be selected, with production capacity of 400pcs/min- 16000pcs/min; Packing: 10pcs/bag-80pcs/bag, large cloth cutting range with large throwing knife, automatic connection between cloth placing frame and film placing shaft, reduced time for replacing raw materials, and effectively improved working efficiency; On-line inspection of cloth joints and on-line removal of connection joints ensure the quality of products.

Spunlace nonwoven,Hot rolled fabric,degradable non-woven fabrics,wet strength paper etc.Specification nonwovens Max width is 1 200mm, two independent rolls in one reel shaft..

Applicable packing materials: PET/PE BOPP PET/AL/PE and other hot sealable materials Film rolling speification: Max width is 420mm, diameter is 360mm. Applicable labels: transparent labels & non-transparent labels; Metal labels are optional; Label speification: Max W100mm,φ400mm 2-axis labels are prepared.

Wet tissue equipment is used to produce baby wipes, disinfected wet wipes, cleaning wet wipes and other types of wet wipes, wet wipes folding method, a pack of quantity, opening method etc., can be customized and adjusted.

Product Name
6 Lines Full Atomatic Wet Wipes Machine
Power
AC 380V 50HZ/60HZ 18kw
Capacity
Folding Machine: 2520Pcs/Min 420Cuts/Min
Packing Machine: 65Bags/Min
Lid Machine: 70Bags/Min
Weight
5000 KG
Size
9500*2665*2230(mm)
Support Languages
Chinese, English, French
Raw Material
Spunlace Nonwoven Fabric, Hot-rolled Non-woven Fabric Dust-free Fabric
Air supply requirements
0.6Mpa-0.8Mpa Gas consumption:0.15m³/min




Product Name
12 Lines Full Atomatic Wet Wipes Machine
Model Number
SYF12
Capacity
Wet Wipes Folding Machine
4000-4800 pcs/min
Packing Machine
Max.70 bags/min
Lid Machine
Max.70 bags/min
Electricity
6.5mm² Copper
Power
28KW
Voltage
Wet Wipes Folding Machine
AC380V 50/60HZ
Packing Machine
AC220V 50/60HZ
Lid Machine
AC220V 50/60HZ
Folding Way
N-shape,C-shape,Y-shape; Y-shape pop-up
Air Supply
0.3-0.8Mpa, 600L/min
Machine Weight
7.5 tons
Language
Chinese/English/other customized
Water Tank
600L*1




Product Name
20 Lines Full Atomatic Wet Wipes Machine
Fabric Specification
Maxφ1100mm W(90-210) mm
Capacity
Folding
8000pcs/min, 400cuts/min
Fabric Roller Dia
76.2mm
Packing
65-80bag/min
Wipe Unfolding Size
L(110-240) x W(90-210) mm
Lid applicator
70-80lids/min
Wipe Folding Size
L(110-240) x W(90-110) mm
Line requirement
16mm²
Film Material
PET/PE, PET/AUPE, PET/ALCPP BOPP/PE/AUPE
Power
AC380V 50HZ60HZ 41KW
Film Thickness
0.07mm-0.09mm
Folding Method
interfold or single extraction
Film Roller
φ70-75mm
Air Pressure
0.6-0.8MPA; Air consumption 0.3m³/min
Film Specification
φ350mm Width400mm
Machine Weight
17000kg
Packing Size
L(150-230)xW(100-120)x(30-80)mm
Machine Size
26100x3580x2060mm
Label Type
Transparent & non transparent lables
Language
Chinese/English/Spanish (customized)
Label Size
Standard 35-50mm, customizable
Fabric Material
Spunlace nonwoven, degradable nonwoven fabric,air lid paper etc
Hole Size
Standard 20-40mm, customizable
Fabric Roller
Twin rolls,10 axes ruming,10 axes stand-by,automatic splicing
Label thickness
0.06mm-0.08mm
Tank Volume
2*1000L
Note: Capacity is different, according to different pcs per bag and packing film types.