Common abnormal handling of mask machine ultrasonic
Time:2020-08-04 10:52 Author:Suny Group
1. The welding is not reliable and the imprinting is not obvious:
Check if there are any wear dents on the Horn surface, if there are, replace the die head
Increase the ultrasonic energy test to see if there is abnormal noise, if so, the die may be loose.
Press the "audio test" by hand, when the ultrasonic vibration is activated, touch the Horn surface with your hand and find that there is no vibration wave (note: do not press, please touch) or there is a special abnormal sound, or it is overheated or hot, it means the die Abnormal, unable to work normally, insufficient energy, need to replace the die in time
Press the "audio test" by hand, when the ultrasonic vibration is started, there is no wave, and the wave generator may be broken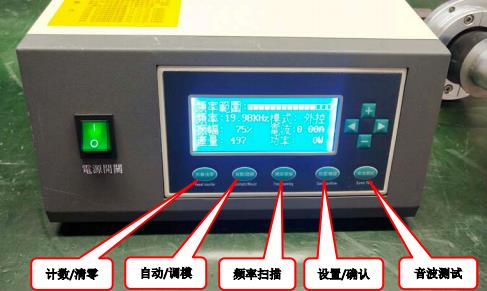 2: Ultrasonic screams:
Check whether the die head is loose, or the contact surface between the die head and the transducer is not flat or installed obliquely
Is the working current too large? The current should be less than 1A when there is no load (preferably less than 0.5A), and the current should be less than 2.5A when working
3: Ultrasound does not emit waves:
Check whether the wave generator can work normally
Is the fuse burned?
4: How to solve the problem that the digital wave generator displays "frequency loss warning":
This phenomenon may be caused by the loosening of the welding head, causing frequency distortion. It is necessary to check whether the assembly state of the die is tightened or not.
At the same time, check whether the wiring is intact
5: How to check whether the welding head is installed properly:
Test the frequency of the die. The correct frequency range is between 19.75~20.10KHz. The die heads manufactured by Ward are generally in the range of 19.85~20.10KHz.  When you press the "audio test" by hand, listen to whether there is a scream. If there is a scream, it is because the die head is loose or the die head and the end face of the transducer are not well matched (the matching surface has a gap).
There is no screaming during ultrasonic operation, and the frequency is displayed within the working range (or the current shows that the no-load is within 1A, and the current is less than 2.5A during operation. The current control requirements of different controllers are different, but they must be adjusted to the minimum state before they can be used ), the die is in the normal state.
Tags:
If you have any requirement or suggestion, please fill in the form and send to us, or contact us by E-mail:sunymachine@gmail.com,thanks!