Parameters of automatic high-speed baby wipes folding machine
Time:2020-08-11 11:24 Author:Suny Group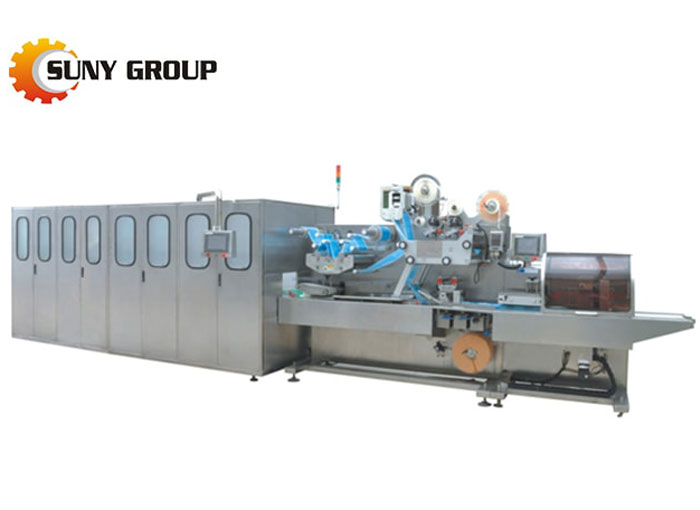 Portable Wet Wipes Making Machine
Production speed: 270~400 cuts/minute; about 40-50 bags/minute
Cutting mechanism:
a. Standard dual original paper holders (optional three original paper holders)
b. Number of slitting channels: 12 channels
c. Width 1000-1520mm
Power supply: 380V 50HZ three-phase power
Total power: 13KW
Applicable raw materials: spunlace non-woven fabric, hot-rolled non-woven fabric, dust-free paper, etc.
Material weight: 35-80 g/㎡
Folding method: "Z"-shaped folding (with or without extraction)
Expanded size: (110~220)×(150~220) (mm, length×width)
Folding size: (110~220)×(90~110) (mm, length×width)
Counting method: automatic counting, variable number of sheets stacking system
Control interface: MITSUBISHI ELECTRIC Mitsubishi touch man-machine interface
Control system: MITSUBISHI ELECTRIC (Mitsubishi) servo control system
Control method: preset automatic control
Power drive: MISUBISHI (Mitsubishi) fully automatic servo motor drive
Humidification method: preset automatic metering humidification
Humidification accuracy: +5%
Machine net weight: 9000kg
Humidification mixing system: double mixing barrel with agitator
Mixing barrel size: 800 × 800 (mm, diameter × height) Capacity: 400 liters * 2 pieces
Tags:
If you have any requirement or suggestion, please fill in the form and send to us, or contact us by E-mail:sunymachine@gmail.com,thanks!