Advantages of mask machine filming machine
Time:2020-08-21 10:43 Author:Suny Group
The automatic flat mask filming machine is a new type of equipment developed by SUNY GROUP based on the characteristics of flat masks. This machine has a high degree of automation, fast film output, uniform film size, and no damage to the nose bridge. This effectively guarantees the quality of the masks produced; the "Hongda" brand full-automatic flat mask body machine is the first necessary for the production of flat masks to replace traditional manual production and improve the quality of the masks.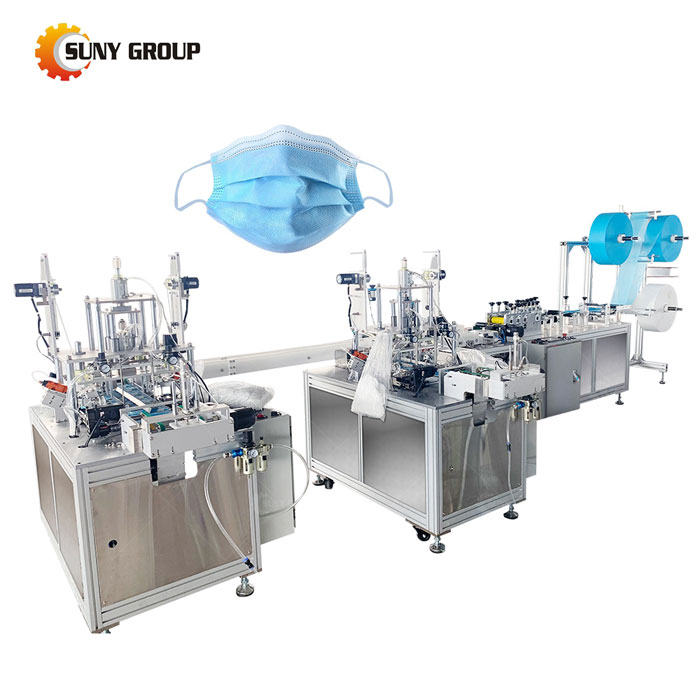 1. This machine is a machine for fully automated production of finished masks. The interface cover is fused by ultrasonic fusion. From the production of the mask body to the welding of the bridge of the nose, it is fully automated and completed at one time without any manual operation.
2. The size of the nose bridge and the length of the body can be equipped according to customer requirements
3. Smooth filming, high output, 1-4 layer masks can be produced according to customer requirements
4. The folding position of the mask can be adjusted freely according to the requirements, the positioning is **, not shifting
5. Feeding system: The machine adopts aluminum alloy structure, beautiful and firm, automatic feeding system, tension wheel setting, adjust the tension of the fabric width, so as to effectively ensure the beauty and flatness of the finished product.
6. Control system:
A. Computer process control, photoelectric detection device, high stability, low failure rate
B. Automatic counting, can accurately control production efficiency and production schedule;
C. Frequency conversion control, users can adjust the production speed according to actual needs;
D. Rotating control box, the user can adjust the operating direction according to actual needs.
Tags:
If you have any requirement or suggestion, please fill in the form and send to us, or contact us by E-mail:sunymachine@gmail.com,thanks!