One for one plane mask machine introduction
Time:2020-10-14 11:34 Author:Suny Group
The automatic one-to-two flat mask machine production line is a fully automated machine for producing flat masks. The flat face mask machine is connected by a body machine and two ear strap machines. The equipment adopts ultrasonic welding method, which is beautiful, hygienic and environmentally friendly. From the production of the mask body to the welding of the ear straps, including feeding, folding and pressing, and welding of the nose line to the finished product, it is fully automated and does not require manual operations. The mask produced has no pressure and good filtering effect, which is suitable for medical, construction, electronics and other industries.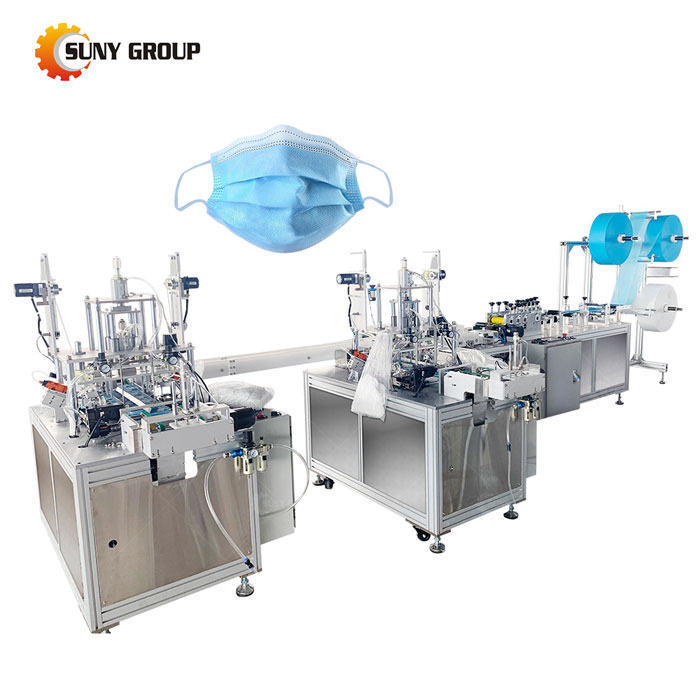 The automatic one-to-two flat mask machine production line adopts aluminum alloy structure, which is beautiful and firm without rust; PLC programming control, servo drive, high stability, low failure rate, low noise; imported motor drive, high precision; photoelectric detection of raw materials, avoid Mistakes reduce waste; molds can be replaced to produce products with different shapes and specifications.
The automatic one-to-two flat mask machine production line improves production efficiency and reduces labor costs. The whole machine is automated from feeding, nose line insertion, edge banding, and cutting finished products. The automatic mask machine is made up of one host and two ear strap welding machines, connected through a one-in-two transmission line. Each equipment requires only one operator and can produce 7,200 units per hour, which can realize the fully automatic production process from coil feeding, folding and pressing to forming and slitting, welding and cutting of ear strap feeding machine, greatly improving Increased production efficiency.
Tags:
If you have any requirement or suggestion, please fill in the form and send to us, or contact us by E-mail:sunymachine@gmail.com,thanks!