What are the main advantages of the Cable Wire Recycling Machine
Time:2020-12-02 10:18 Author:Suny Group
The Cable Wire Recycling Machine is also called waste wire recycling equipment, and the processing of waste wires is a relatively exquisite technology. It is an environmentally friendly mechanical equipment used to smash waste wires, circuit wires, miscellaneous wires, communication wires, data wires, and earphone wires and sort the copper and plastic in them.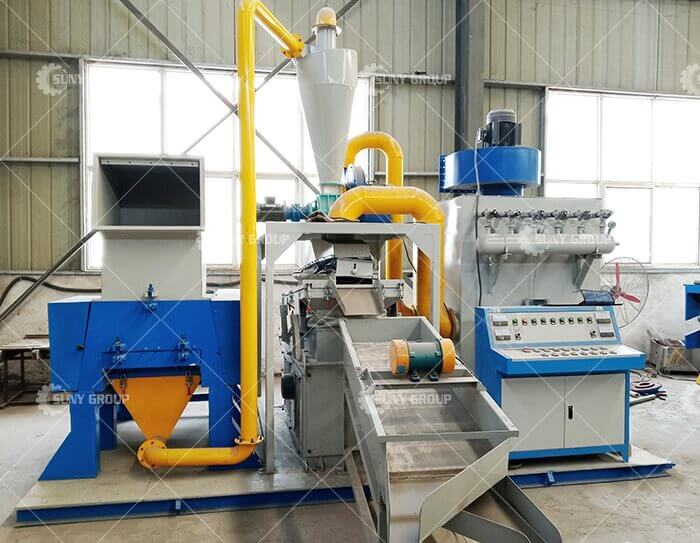 1. Integral combined structure, combining equipment on a platform, compact structure, small footprint, convenient for mobile transportation.
2. Strong adaptability: it can process scrap copper wires of the same specification, and can also process waste cables of different specifications mixed, which is not achieved by other types of copper meters;
3. High purity of the product: the copper rice produced by this machine has high purity, which can reach more than 99.5%;
4. Good environmental benefits: Because the unit is equipped with a more sophisticated dust collection system, it will not pollute the environment.
As a professional manufacturer of environmental protection equipment such as Cable Wire Recycling Machine, metal crusher, waste tire shredder, dust removal equipment, SUNY GROUP will continue to provide first-class quality, most affordable price, professional advice and high-quality after-sales Service returns to the new and old customers. Welcome people with lofty ideals to visit the company, discuss cooperation, and create great achievements together!
Tags:
If you have any requirement or suggestion, please fill in the form and send to us, or contact us by E-mail:sunymachine@gmail.com,thanks!