How do circuit board equipment recycle copper in electronic waste?
Time:2020-12-04 12:17 Author:Suny Group
E-waste is different from ordinary household garbage in that it contains a lot of toxic and harmful substances. Once these substances are not handled properly, they will easily enter the environment and cause serious pollution to groundwater, soil and atmosphere. At the same time, e-waste also has high utilization value. For example, the purity of some precious metals is dozens of times that of some natural mines, and the recovery cost is generally lower than that of natural mines. If the e-waste can be recycled reasonably, it will bring great benefits.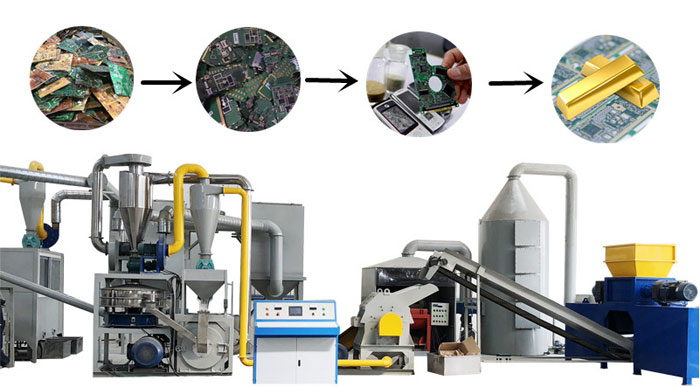 Our SUNY GROUP circuit board recycling equipment first disassembles some large electronic waste components in the disassembly machine into components of different sizes and types. In order to solve the pollution problem in dismantling, we are also equipped with oil and alkali spray equipment to ensure that the problem of environmental pollution is solved. In order to make the next processing of the components more convenient, the disassembled components are classified by the linear screen. I think you should be able to guess the follow-up work. These classified components go through the shredder and mill in turn until they meet customer requirements. The mixture that meets the requirements is sorted and recycled according to the specific gravity, density and electrical conductivity under the action of the air separator and electrostatic separator. The copper we need is separated after airflow sorting.
In order to solve the problem of environmental pollution, our production line is equipped with fully enclosed pulse dust removal equipment. The treated gas meets environmental protection requirements. In this way, the copper in the circuit board can be recovered through our circuit board recycling equipment. Welcome friends in need to contact us for consultation.
Tags:
If you have any requirement or suggestion, please fill in the form and send to us, or contact us by E-mail:sunymachine@gmail.com,thanks!