Selection skills of four-side sealing wet tissue packaging machine
Time:2020-12-28 11:14 Author:Suny Group
The four-side sealing wet tissue packaging machine is used to pack relatively thin products, in order to achieve beautiful appearance, neatness on all sides, and bottomless sealing, which will affect the packaging effect. Currently on the market, the main products packaged by the four-side sealing wet tissue packaging machine are: facial masks, insoles, wet wipes, cutlery covers, medical cloths, etc.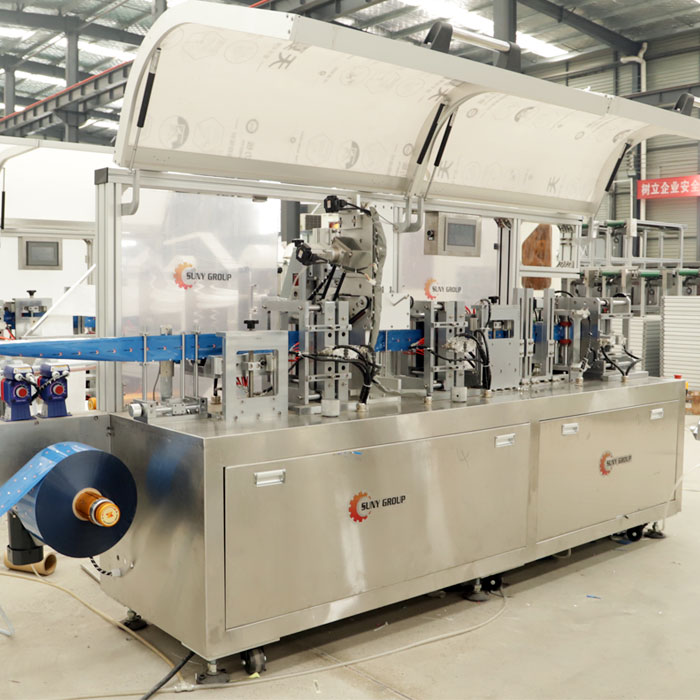 What should we pay attention to when choosing a four-side sealing wet tissue packaging machine? First of all, we need to know clearly whether to choose to use a single roll (which can be cut with an M plate on the machine) or use two rolls of film for point-to-point packaging, both are OK The operation is achieved. Next, we need to clearly know our requirements for sealing edges on all sides. The width and texture of the edge can be selected, so this also requires the customer to have a certain idea. Finally, of course, the way of speed, alternative products (whether there are easy torn corners, whether there are U-shaped hanging holes or round holes, whether there is a date typewriter, etc.)
The packaging form of each product is closely related to the packaging machinery used. Four-side sealing wet tissue packaging machine is the most widely used packaging machine in various industries. It is the focus of the packaging machinery industry. In recent years, with the continuous increase of the same manufacturing company, the pillow packaging machine manufacturer has been striving to win with new ideas on the basis of solid software and hardware, gradually breaking the design plan, and undertaking the inspection of the demand side.
Years of development experience has made many companies realize the importance of technological innovation and accelerated the development of advanced skills. The application of various skills has undoubtedly added advantages to the four-side sealing wet tissue packaging machine, and more manufacturers have joined it, providing them with a channel for cooperation. Replacing manual operation with more and more intelligent control systems is a landmark change in the development of pillow packaging machines to high-end. The development of packaging machinery is promoted through skill updates.
In such a large market competition environment, the manufacturer of the four-side sealing wet tissue packaging machine should decide on a partial change without losing the overall plan. At the same time, it should be forward-looking, focusing on the longer-term market situation to design the machine, not only strictly control the machine Quality, and more importantly, simplify the packaging process, increase smart investment, and consolidate packaging quality.
Tags:
If you have any requirement or suggestion, please fill in the form and send to us, or contact us by E-mail:sunymachine@gmail.com,thanks!