Automatic dismantling and sorting of electronic waste
Time:2020-12-30 11:37 Author:Suny Group
The circuit board recycling equipment realizes the automatic disassembly, crushing and sorting function of electronic waste, and the equipment has a high degree of automation in the dismantling, crushing and sorting of waste circuit boards and components. The previous methods of dismantling electronic components on circuit boards have many drawbacks. Before handling the components, manual removal is the main method. Strict labor protection measures are required, which will inevitably cause heavy metal poisoning. After the emergence of automated machinery and supporting facilities, this problem has been solved well.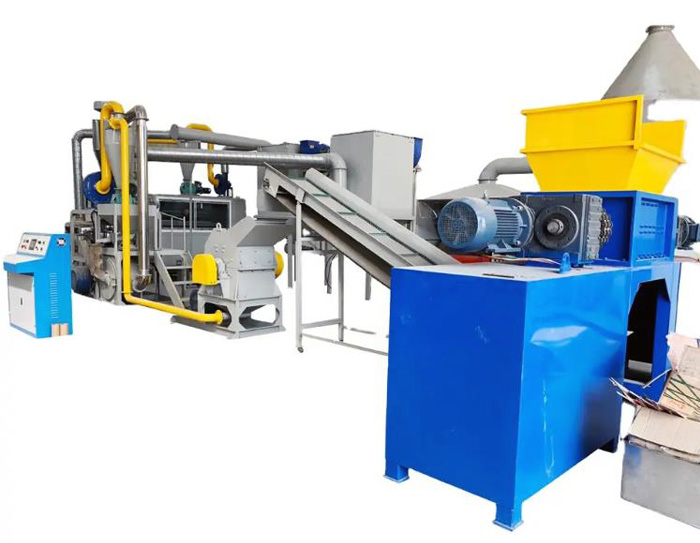 Today's circuit board recycling equipment dismantles the circuit board substrate materials by using electric heating and air heating in the disassembly process. The equipment is successfully dismantled. According to the characteristics of the circuit board, the melting temperature of tin is used to disassemble the circuit board at 120°C. Sorting, using heating, turning, and vertical movement to remove non-soldering components, and direct the pins of the plug-in components to be removed, and then according to the melting temperature of the circuit board solder, the heating solder is fully melted, and the flipping friction The components are separated from the circuit board. Since the step of recycling waste circuit boards is the disassembly of electronic components, manual disassembly has problems such as low disassembly efficiency and environmental pollution, which largely restricts the recycling and harmlessness of waste circuit boards. Therefore, the rapid development of high-yield circuit board dismantling equipment without waste gas odor pollution has promoted the progress of the industry.
The circuit board recycling equipment is composed of a host and conveying equipment. The equipment is equipped with a large dust removal device to collect the dust in the waste material. It will not cause any pollution during the production process and meet the environmental protection requirements. The circuit board recycling equipment first disassembles the used circuit boards, capacitors, resistors, and other parts and waste materials in the used household appliances before crushing and sorting. The second is that the equipment uses dry crushing to make waste circuit boards, circuit boards, computer boards, copper clad laminates and other raw materials into a mixture of metal and resin fiber powder; and then separate the metal from the resin by wind and electrostatic separation. In order to prevent dust pollution during processing, a pulse dust removal device is added after the air flow sorting process, which effectively solves the problem of dust pollution.
Tags:
If you have any requirement or suggestion, please fill in the form and send to us, or contact us by E-mail:sunymachine@gmail.com,thanks!