What are the main system components of the automatic flat mask machine
Time:2021-01-26 10:57 Author:Suny Group
The automatic one-to-two flat mask machine production line (also automatic flat mask machine) is a fully automatic high-speed flat ear-belt mask production line newly developed by Zhongji Machinery, including automatic raw material feeding, automatic conveying, cutting off the nose strip, and welding the edges of the mask. Folding, ultrasonic fusion, forming, cutting and other full-process automation, complete the entire production process from coil raw materials to finished masks.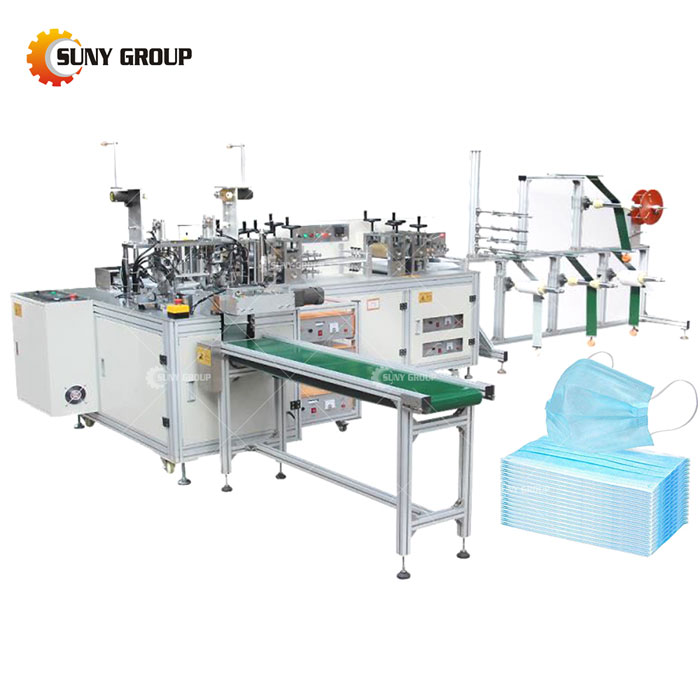 The system composition of the fully automatic flat mask machine includes the following 4 aspects:
1. The transmission system of the mask machine: The transmission system of the mask machine includes motors, gears, reducers, sprockets, chains, conveyor belts and other components. Check whether there are dust and other things on the outer surface of the motor that affect the heat dissipation, whether the gears and sprocket are oiled, and whether there are adhesions. Is the tightness of the chain of the mask machine appropriate? Is there any foreign matter? Is the connection screw between the transmission parts loose? Is the lubricating oil of the reducer of the mask machine sufficient? Usually, the lubricating oil needs to be replaced once every 1000 hours to 1500 hours.
2. Electrical system of the mask machine: Check whether the circuit connector of the mask machine is loose, whether the main power cord, branch signal line, etc. are worn? Aging? The electrical equipment is loose? Is the inside of the electrical box clean and boring? Is the exhaust fan? Not a normal job, etc.
3. Ultrasonic system of mask machine: (consisting of ultrasonic electric box, sensation, welding head, connecting wire) Check whether the ultrasonic system of mask machine is clean, especially ultrasonic electric box, sensation (transducer), welding The head (expansion ratio) must be dry and clean without water, and the connection line must be firm. Always check the degree of wear of the ultrasonic welding head of the mask machine. Pay attention to the scale of changes in the pointers of the voltmeter and ammeter on the ultrasonic box of the mask machine.
4. Air supply system of the mask machine: (consisting of the air source filter system, trachea, and air cylinder) air filter cup to check whether there is water in the mask machine? Drain water, and by the way, discharge water to the air compressor (air compressor discharge: areas with high humidity Drain the air compressor every day). Check if there is air leakage in the air pipe? Is there air leakage in the cylinder? Is the cylinder magnetic sensor orientation and operation normal?
Tags:
If you have any requirement or suggestion, please fill in the form and send to us, or contact us by E-mail:sunymachine@gmail.com,thanks!