Detailed explanation of automatic N95 mask machine
Time:2021-02-07 15:32 Author:Suny Group
The fully automatic N95 mask machine includes a complete set of assembly line equipment such as mask molding, mask crimping, mask cutting, ear band welding, upper nose strip, printing, breathing valve welding, etc., in which mask molding and mask mask production use fully automated ultrasonic equipment , The pressing and cutting of masks can be completed by one machine, which greatly improves the production efficiency of N95 masks.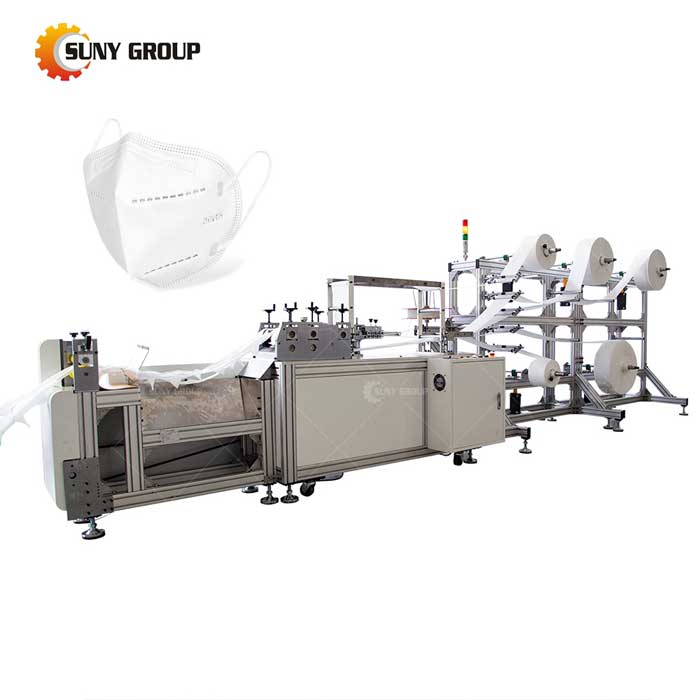 The main frame structure of the automatic N95 mask machine is built with 4040 aluminum profile, 4080 aluminum profile or 8080 aluminum profile, no welding, light weight, convenient assembly and disassembly, and can be put into use quickly and shorten the construction period. There will be no shaking during use, and the stability is good, which is very popular with mask machine equipment manufacturers.
The automatic N95 mask machine adopts the hot pressing process when making N95 masks. Each time it can produce four single stations, one produces four double stations (two persons operate independently at the same time), and one produces six double stations (two persons at the same time). Independent operation), forming four pieces, including automatic return action and feeding rack, the actual model can be produced according to customer requirements.
The fully automatic N95 mask machine uses PLC program control to complete automatic production. From 3 to 6 layers of raw materials, the job is automatically completed. The production process includes automatic printing, automatic nose striping, folding molding and ear band welding; the equipment is fed by servo. The special positioning system perfectly cooperates with each production station to produce folding masks with high quality and efficiency; in order to meet market demand, the mold can be adjusted according to the product to produce a variety of N95 masks.
The fully automatic N95 mask machine has advanced design concepts and mature technology, which can meet the needs of producing various types of folding masks. It has high production efficiency, accurate folding and forming, strong and beautiful ear strap welding, and strong pulling force. The equipment runs stably, with long-term continuous action, automatic control throughout the equipment, smooth operation, and stable product production.
Tags:
If you have any requirement or suggestion, please fill in the form and send to us, or contact us by E-mail:sunymachine@gmail.com,thanks!