How does the folding mask machine work?
Time:2021-04-15 14:35 Author:Suny Group
The production process of the folding mask machine is divided into 5 parts: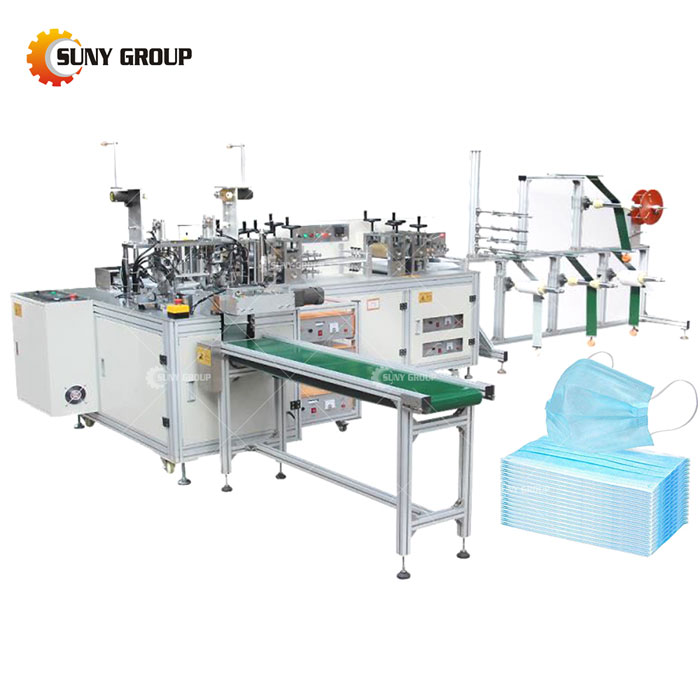 1. The automatic head-hanging folding mask machine includes a welding ear strap device, the upper fixing plate is fixed on the workbench, and the center insert plate is installed on the workbench longitudinally;
2. The bottom surface of the fixed plate is symmetrically fixed with ultrasonic welding heads, and the ultrasonic welding heads are perpendicular to the central board;
3. A sliding clip track is provided below the ultrasonic welding head, and a sliding clip is provided on the sliding clip track. The center line of the sliding clip track is perpendicular to the central board;
4. There is a rotating clamp drive seat under the center insert. The center line of the rotating clamp driver seat is perpendicular to the center insert. The rotating clamp driver seat is symmetrically provided with a rotating clamp that can move and rotate in three directions. The rotation of the rotating clamp is located in the ultrasonic welding. Under the head;
5. The ear strap is welded to the mask through the ear strap welding device to realize fully automatic production, greatly improving the production efficiency, and the location of the ear strap welding is accurate, and packaging materials can be saved.
Tags:
If you have any requirement or suggestion, please fill in the form and send to us, or contact us by E-mail:sunymachine@gmail.com,thanks!