Waste wire processing equipment, waste wire recycling equipment
Time:2021-04-20 10:20 Author:Suny Group
Regarding the copper rice machine, the process is different, the materials and materials used are different, and the quality and effect of the equipment produced are also different. The mechanically produced dry copper rice machine adopts an integrated design, which greatly reduces the area occupied. The dry copper rice machine is composed of a crusher, an automatic feeder, a specific gravity separator, an airflow separator, and a dust collector, which perfectly realizes the environmental protection and the separation of metal and plastic wire skins. The working process is to first put the waste and miscellaneous wires into the pulverizer, and the pulverized wire skin and copper wire are formed into granules, and the air-flow sorting and specific gravity sorting machine cooperate to separate the copper wires and the wire skins with different specific gravities. To achieve the purpose of separation and recycling of copper and plastic wire skins.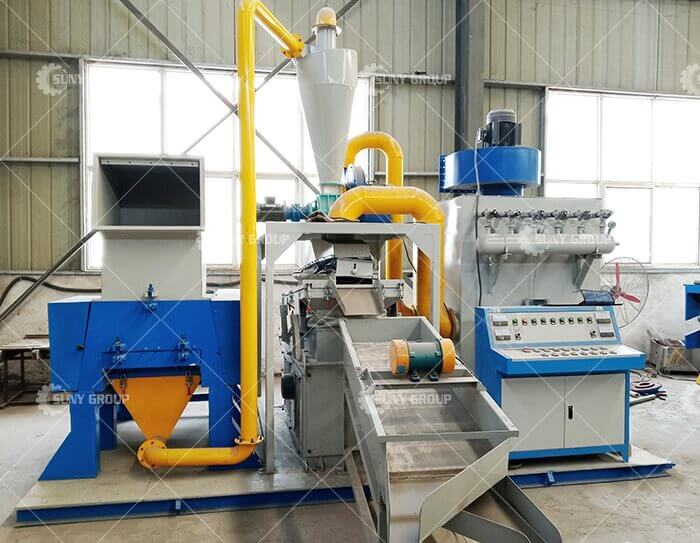 The copper rice machine has been improved many times, greatly improving the sorting effect of the copper rice machine. The equipment has the advantages of novel structure, convenient installation, simple operation and high degree of automation. After various waste cables are processed through a series of procedures, pure copper rice particles and plastics can be obtained. Whether it is a thick thread or a capillary thread that is difficult to separate, it can be handled relatively cleanly.
We promise that all users who purchase our 600 dry copper rice machine will receive free installation and commissioning, free technical guidance, and free post-maintenance. With the promise of "three exemptions", we will provide all-round services for users.
Sorting method
1. Dry-type copper machine: The so-called dry-type copper rice machine refers to a copper rice machine that does not need to add water during the sorting process. This type of copper rice machine mainly uses air-flow sorting machines, or air shakers or electrostatic sorting and other more environmentally friendly methods for sorting. The main technological process is: crushing-airflow sorting-(electrostatic sorting)-dust collection. (Electrostatic sorting is rarely used on current copper rice machines.)
2. Wet sorting: Wet sorting is a more traditional method. The idea of ​​this sorting method mainly comes from beneficiation. The wet type mainly uses a gravity shaker for sorting. The main process flow is: crushing and (adding water)-gravity shaker (adding water). Because water is used in the production process, in general, this method causes a small amount of secondary pollution to the environment, but it can effectively Recycling of miscellaneous wires, plug wires and woolen wires, etc., has a very wide range of applications.
Tags:
If you have any requirement or suggestion, please fill in the form and send to us, or contact us by E-mail:sunymachine@gmail.com,thanks!