Barreled wet wipes automation equipment
Time:2021-04-20 10:26 Author:Suny Group
At present, whether it is domestic or foreign, more and more places are using wet wipes. During this epidemic, wet wipes have also set off a craze, so what machine is used to pack barreled wet wipes? This automated equipment for barreled wet wipes is designed for packaging of barreled wet wipes, whether it is from The performance of the machine and the aesthetics of the packaged product are both recognized by the general public.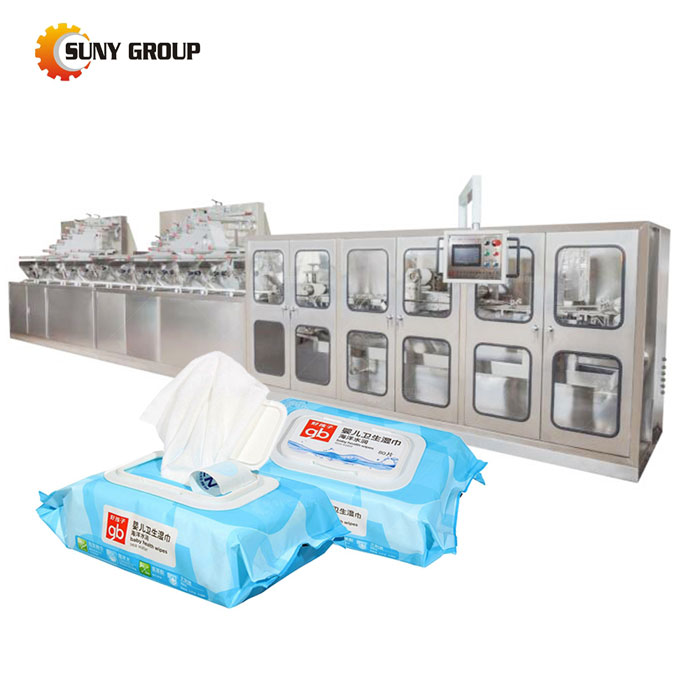 The following is the drawing of the barreled wet wipes assembly line. From the drawing, the entire assembly line is complete and smooth. The automated packaging assembly line is designed and manufactured according to the drawings and applied to various daily necessities factories, food factories and other types of manufacturers. These machines have different functions to form an automatic packaging line in the entire workshop. Advanced technological achievements in material science, mechanical science, and control science are applied in the design and manufacturing to ensure the precision and accuracy of each working device in the packaging engineering machinery composition. , Coordinated automatic cycle work, together to ensure that the packaging automation production line can work efficiently, greatly exceeding the manual work efficiency.
The wet tissue machine is equipped with a set of pneumatic automatic feeding device; the original cloth is equipped with an air expansion shaft for unwinding, and it is equipped with a magnetic powder automatic tension controller for conveying, and the frequency converter can freely adjust the unwinding speed. Air-push cutting round knife, convenient size adjustment, light and stable, neat cutting, smooth end surface without burrs. Equipped with a set of steel rollers combined with rubber roller traction, which makes the production stable and the rewinding neatly.
Tags:
If you have any requirement or suggestion, please fill in the form and send to us, or contact us by E-mail:sunymachine@gmail.com,thanks!