New type of lithium battery crushing and sorting production line
Time:2021-05-12 11:02 Author:Suny Group
At this stage, waste lithium battery recycling and processing equipment, lithium battery positive and negative sheet waste decomposition equipment, based on the continuous innovation and research and development of Haozhe Environmental Protection, has developed a new environmentally friendly waste lithium battery crushing and separation production line.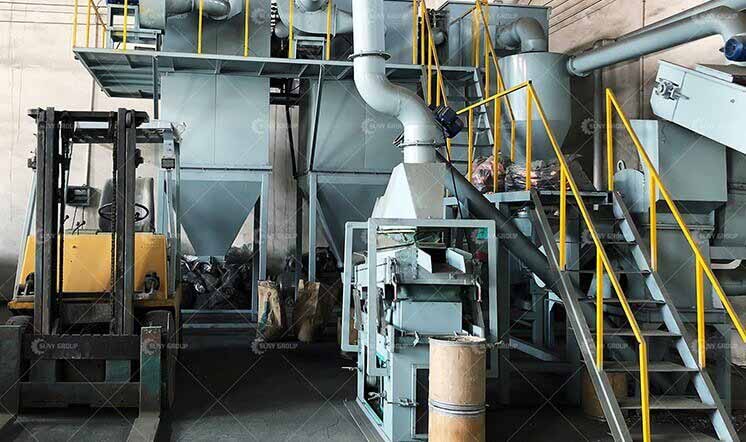 Waste lithium battery recycling equipment is used to disassemble and crush a casing for rechargeable batteries such as automobile power lithium batteries, mobile phone lithium batteries, new energy technology lithium batteries, lithium battery positive and negative materials, and then further screen according to the decomposition equipment. , A material crushing separation equipment for the production and processing of copper, aluminum and positive and negative raw materials.
Key technology:
1. The key technology of SUNY GROUP environmental protection lithium battery recycling equipment: lithium battery double-shaft shredder; lithium battery shredder; diaphragm recovery device; lithium battery crusher; air separator; copper and aluminum separator; lithium battery belt Conveyor; pulse dust collector, etc.
2. Important technological innovations: the highly coordinated automation of the production line of the lithium battery recycling and crushing processing automation technology; the intelligent detection and alarm equipment of the entire mechanical equipment; the automatic separation of copper and aluminum screening, etc.;
Lithium battery positive and negative sheet processing equipment:
Lithium battery anode and cathode sheet waste decomposition equipment can only be used for lithium battery cathode materials, battery cathode materials are used as battery cathode materials, aluminum and lithium cobalt oxide battery metal materials are separated, and battery cathode materials are separated from copper and high-purity graphite. Battery material separation equipment.
Lithium battery crushing processing equipment, lithium battery positive and negative electrode sheet processing equipment welcome everyone to come to the factory to exchange test machines! Cooperation and negotiation.
Tags:
If you have any requirement or suggestion, please fill in the form and send to us, or contact us by E-mail:sunymachine@gmail.com,thanks!