Method for crushing, sorting and recycling scrap circuit boards
Time:2021-06-01 11:32 Author:Suny Group
Common circuit boards and circuit boards contain a variety of metals, the most of which is copper, in addition to gold, aluminum, nickel, lead, silicon, etc., among which there are many rare metals. These metals can be recycled and reused by crushing and recycling waste circuit boards, copper clad laminates, PCB/FPC circuit boards, and the metal recovery rate has reached more than 99%.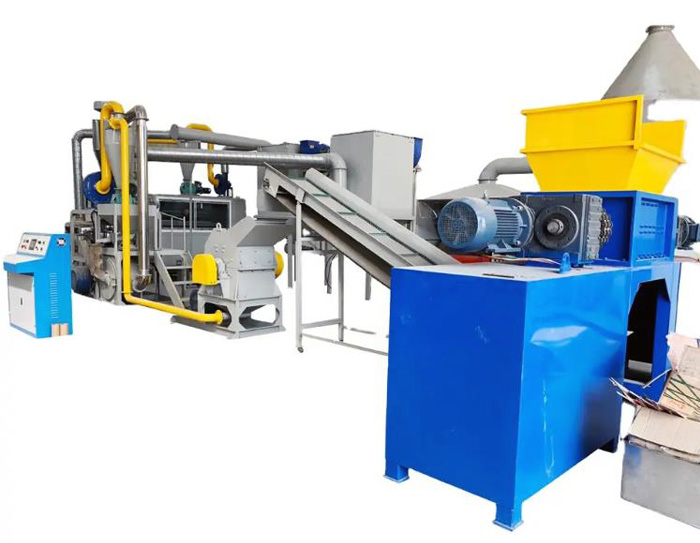 1. The circuit board is sent to the shredding and crushing machine by the conveyor
2. Shred the circuit board to 3-5 cm, and then drop it directly into the crusher.
3. The crushed particles reach 1-2 cm, and then they are sent to the three-stage pulverizer by the feeding screw for grinding.
4. The pulverizer is an integrated water-cooled pulverizer, and the pulverization is carried out under the condition of ensuring the normal temperature of the machine, and the mesh number reaches 50-80 mesh.
5. The pulverizer is equipped with a grading and screening machine, and the circuit board powder that reaches the required mesh during the grinding process enters the next step, and cannot meet the required recirculation.
The 6.50-80 mesh circuit board powder enters the next link of the wind specific gravity separator, and the primary separation is carried out according to the specific gravity of copper powder and resin fiber powder, and about 70% of metal powder can be separated.
7. The powder separated by the specific gravity separator and the powder drawn by the upper suction enter the pulse dust collector. The powder discharged by the pulse dust collector contains a small amount of copper powder, and then it is sent to the high-voltage electrostatic separation equipment by the wind feeder. One step separation.
Tags:
If you have any requirement or suggestion, please fill in the form and send to us, or contact us by E-mail:sunymachine@gmail.com,thanks!