Which one is better for wet wipes machinery and equipment?
Time:2021-06-18 09:56 Author:Suny Group
Wet wipes machine equipment can produce baby wipes, skin care wipes, kitchen wipes, leather wipes, hotel wipes, sanitary wipes, alcohol wipes, disinfection wipes and other wet wipes.
Understand the wet tissue machinery and equipment, from the three aspects of wet tissue production process, wet tissue production line equipment, and wet tissue machine after-sales service.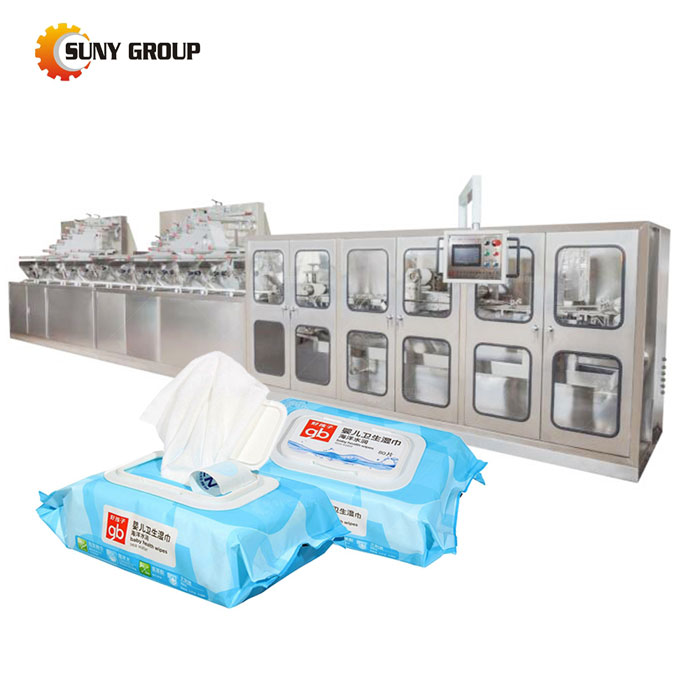 Wet wipe technological process: roll up and unwind-folding-adding liquid-stacking-conveying-opening labeling of packaging film-bag making-bag-in packaging-sealing and cutting-finished product output-sticking cover-packing.
Wet wipe production line equipment: feeding device, folding device, liquid adding device, cutting device, stacking device, conveying device, labeling device, opening device, packaging device, etc., large line can also add sticking equipment, packing equipment The entire wet tissue paper production line is configured according to actual needs, and the whole process is fully automatic.
Wet wipe machine after-sales service: Headsun provides wet wipe factory planning, production workshop design, raw material docking, wet wipe solution formula, wet wipe equipment installation and commissioning, and technical training.
Whether the purchased wet wipes machinery and equipment can create higher benefits depends on quality assurance. When the equipment can arrive as soon as possible and whether it can enter production as soon as possible, it depends on the speed of delivery and the speed of debugging. Good wet wipe machine manufacturers can excel in all aspects. SUNY GROUP machinery is continuously improving in these aspects to satisfy The actual requirements of the customer.
Tags:
If you have any requirement or suggestion, please fill in the form and send to us, or contact us by E-mail:sunymachine@gmail.com,thanks!