How to recycle waste electronic waste circuit boards?
Time:2021-06-25 09:49 Author:Suny Group
E-waste is a breeding ground for the rapid development of the information industry. The impact of e-waste represented by computers, mobile phones and televisions on the environment and social development has attracted more and more attention. As a developing country, how to dispose of e-waste in a reasonable, timely and effective manner has become a problem that my country must solve to achieve sustainable development and build a harmonious society. As a kind of "noble" garbage, discarded electronic circuit boards not only retain the two sides of traditional garbage, but also show more "squeaky". From the perspective of "turning waste into treasure", the value of resources contained in e-waste is much higher than that of traditional garbage.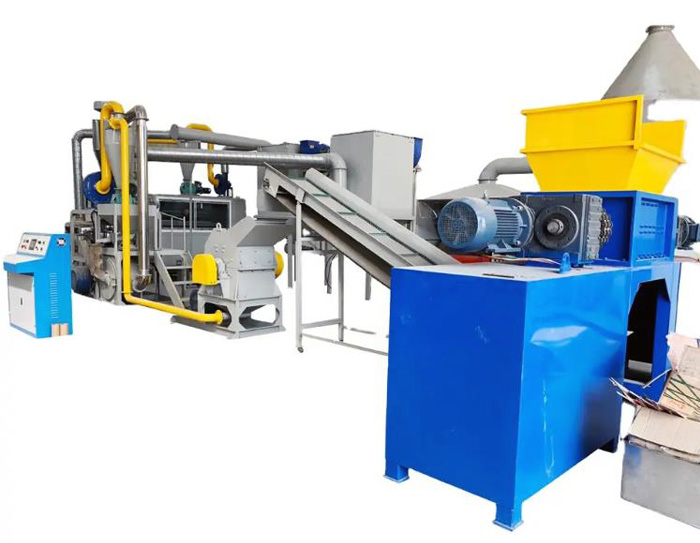 There are many ways to separate and recycle e-waste, among which the mechanical method is the one that has less impact and pollution on the environment. The circuit board recycling equipment uses secondary pulverization for pulverization, and then uses wind and high-voltage electrostatic separation to separate the metal and resin powder to control the loss of non-ferrous metals. The new dust removal equipment is used to prevent the separated powder from polluting the air. The circuit board recycling and crushing treatment is equipped with secondary crushing to maximize the processing capacity. The whole set of equipment adopts a new type of dust collector, cyclone dust removal + electrostatic dust removal + purification dust removal three in one to prevent waste discharge and no pollution to the air. The use of high-voltage electrostatic sorting machine makes the sorting more efficient and improves the sorting rate of non-ferrous metals.
Nowadays, there is more and more electronic waste. If it is not processed in time, the accumulated electronic waste will cause serious pollution to the environment and soil. So mechanical processing methods are now a good choice. Used for the separation of metal and non-metal in materials such as waste circuit boards, copper clad laminates, circuit boards and scraps.
Tags:
If you have any requirement or suggestion, please fill in the form and send to us, or contact us by E-mail:sunymachine@gmail.com,thanks!