Copper wire separation equipment,cable wire recycling machine
Time:2021-06-29 14:13 Author:Suny Group
The copper wire separation equipment is also called the copper rice machine, which separates the copper core and the plastic rubber skin after the waste wires are broken. The copper rice function for wire and cable crushing can process miscellaneous copper wires, aluminum wires, automobile dismantling wires, power wires, plug wires, battery wires, earphone wires, data wires, computer wires, sheath wires, and flower wires with a diameter of about 20mm. , Network cable, etc. These waste wire recycling characteristics make the copper wire thin, the number of meters is uneven, and the chaos is clumped together. Sorting and smashing one by one takes time and effort, and the efficiency is slow.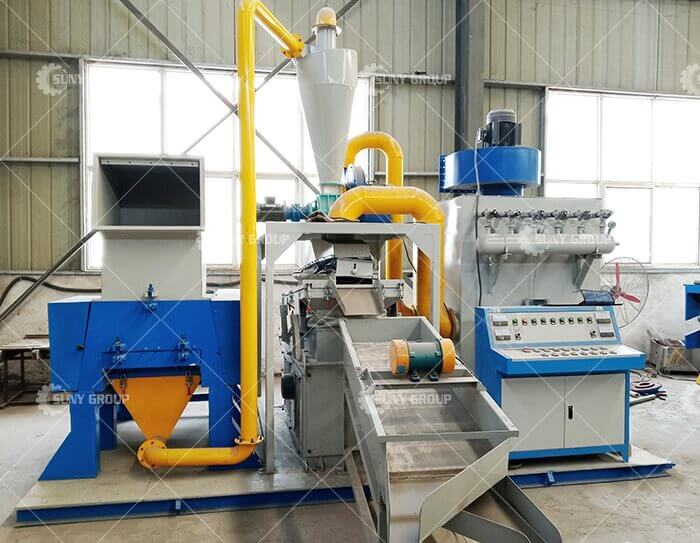 The dry-type automatic copper rice machine is a complete machine combined body, composed of three systems: crushing system, sorting system, and dust removal system. These three systems are closely combined to form a complete set of wire crushing processing production line.
As a direct manufacturer of copper wire separation equipment, it has many years of manufacturing experience. Users who are engaged in the waste wire recycling and crushing business order copper rice machines from our factory. After two years and three years, they return to users and users evaluate the working performance and efficiency of copper rice machines. It is still better, the copper meters after the broken wires and cables are broken and separated are clean.
Tags:
If you have any requirement or suggestion, please fill in the form and send to us, or contact us by E-mail:sunymachine@gmail.com,thanks!