How to crush, sort and recycle used motor rotors?
Time:2021-09-17 10:22 Author:Suny Group
Scrap motor rotors contain a large amount of pure copper coils, etc. These materials are bulky and difficult to disassemble. In the past, customers generally did not use processing, depreciation and depreciation to sell to some. In 2021, the price of various metal raw materials Rising constantly, the motor rotor processing production line ushered in an investment boom.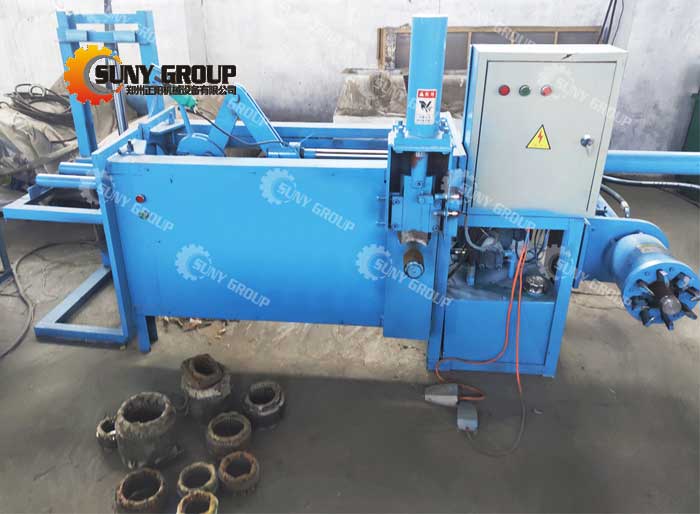 Production line process of waste motor rotor motor rotor crusher:
The working method of the motor rotor crusher is hammer crushing. The working principle is: the motor drives the hammer head to perform high-speed rotation, hitting the scrap iron entering the crushing box and the rebound impact of the counterattack liner, and finally the copper material is crushed and passed through the screen. The plate is filtered out.
Prospects for the crushing and sorting of the motor rotor of the waste motor rotor crushing production line
The motor rotor is the core rotating component in the motor. The motor is composed of a rotor and a stator. The motor rotor is divided into a motor rotor and a generator rotor. At present, the recycling price of scrap motor rotors on the market is about 5,000 yuan a ton, and the current price of copper is more than 30,000 a ton, and every 1 ton of electronic rotors that are broken can get 0.25 tons of copper, and the profit margin is very large. , The development prospects are also good.
The indispensable equipment is the scrap motor rotor crusher. The motor rotor crusher equipment is a new type of waste recycling equipment, which is very popular with customers due to its strong crushing force to completely separate the copper and iron in the motor rotor.
The motor rotor crusher production line adopts a physical method of harmless treatment of resource recycling equipment. The materials such as the waste motor stator coils that are manually pre-sorted are transported to the primary crushing and secondary crushing through the conveyor, and they are sorted by strong magnetic rollers. The machine separates the silicon steel sheet and the copper mixture, and then transports the copper mixture from the conveyor to the crusher for further crushing and refinement to obtain products with higher purity, and then from the conveyor to the air flow separator for separation to obtain higher purity. High copper particles and a small amount of debris.
Tags: