How to remove the copper wire of the rotor of the motor?
Time:2021-10-23 11:20 Author:Suny Group
The coil dismantling motor knife is a vertical head. When the material is torn strongly by the fixed knife, particles close to the sieve are formed during the beating process with the rotation of the turntable, and the particles are filtered into the material outlet through the sieve. When the material is discharged, it passes through the dust collector to completely suck away the patent leather and impurities, so that the shredded metal particles are clean and bright, and the pollution is reduced. The screen can be customized according to the research and invention of materials and user needs.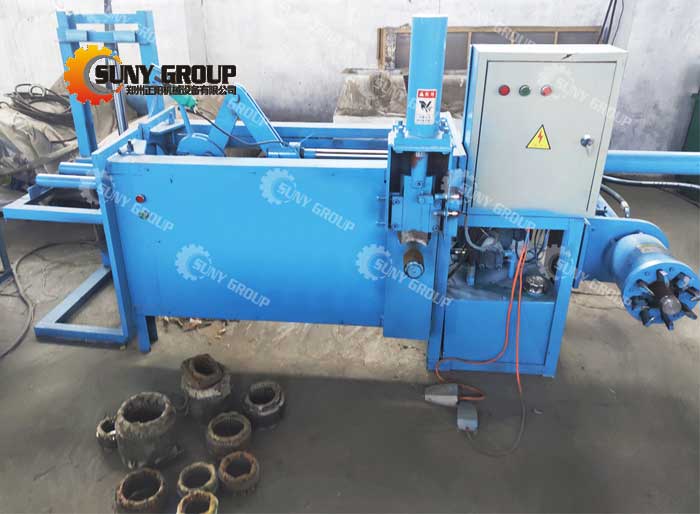 Pull the copper positioning plate to limit the motor stator, then step on the foot switch to move the pliers structure over the copper wire, and then step on the foot switch to pull the copper wire out of the stator under the action of hydraulic pressure, so as to recover according to the actual situation Copper wire and stator core. Production of dismantling equipment for waste motors. Manufacturers with a lot of unqualified scraps.
The copper chopping machine belongs to the automatic dismantling of motor equipment. The copper chopping machine provided by our factory is suitable for dismantling manufacturers of used motors and motor returns. ) The preferred dismantling equipment for utilization and reuse is also the dismantling equipment for metal utilization and treatment by scrap metal recycling manufacturers.
The whole equipment is driven by hydraulic pressure. When cutting the wire, the waste motor stator is supported on the support column (roller structure), and the motor stator is developed by the copper chopping board. , (2) If any abnormal noise or motor failure is found, stop and check, and do not make a start-up test before the failure is found and eliminated. , One month can save you at least more than 20,000 expenses, if your equipment has a large output. Increasing production power, automatic high-cutting cutting machinery, automatic feeding, then one month will save you a particularly large expenditure. At the same time, the machine slowly and gradually removes this. In addition, this equipment has a very high working power level.
The stator dismantling and cutting machine is a newly developed stator coil dismantling machine developed by SUNY GROUP, which can be used for dismantling motor coils of electrical products such as washing machines, electric fans, and electric tricycles. The machine has the advantages of fast thread cutting speed, high efficiency of thread removal, small footprint and stable performance. Greatly improve the efficiency of stator maintenance and copper-iron separation.
Tags: