Working principle of waste wire crushing separator
Time:2021-12-03 11:54 Author:Suny Group
The waste wires and cables are put into the waste wire crushing separator crushing system for one time crushing. After the materials become small about 3cm, the iron metal is lifted out by the magnet machine, and the remaining materials enter the second crusher to shear and crush into powder, and pass through first after crushing. The airflow extension machine obtains plastic and copper, and the uncleaned plastic and copper are separated by the electrostatic extension machine for a second time. The dust generated by time sharing is absorbed and purified by the pulse bag filter without secondary pollution. Since the obtained copper was shaped like rice grains, the waste wire crushing separator was later called a copper rice machine.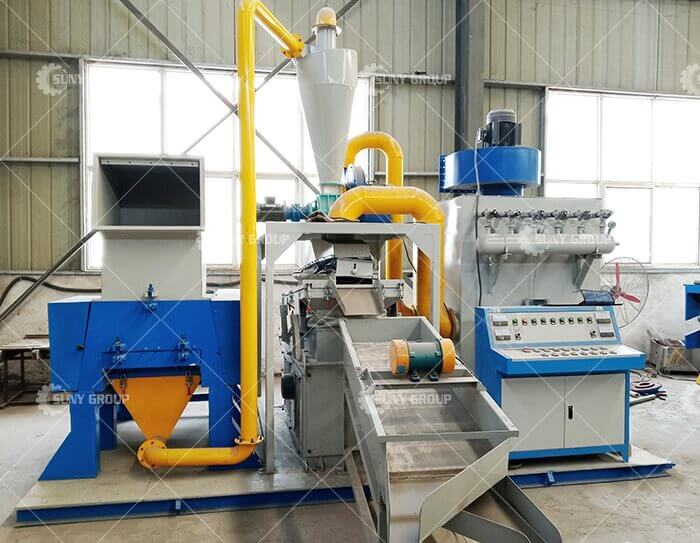 Separation process of waste wire crushing separator:
1. The crushing device of the waste wire crushing separator adopts the produced wire and cable crusher for primary crushing, with considerable output and reasonable efficiency.
2. The separator adopts two separation methods: sieve and specific gravity, which is compatible with all kinds of cable separation.
3. The secondary core separation system adopts piezoelectric electrostatic separator to separate (electric), and the metal separation rate is over 99.
4. The waste wire crushing separator has one feeding, multi-stage coordination with crushers, crushing, and separation. The equipment production line is designed reasonably. The copper in the cables separated and recycled by this machine can maintain the original copper quality and can recycle plastics, etc. Features.
Tags: