What are the methods of sorting and recycling aluminum-plastic materials?
Time:2020-02-19 11:09 Author:Suny Group
With the development of science and technology, the application of aluminum-plastic panels is becoming more and more widespread, and the waste aluminum-plastic panels generated are also increasing. Aluminum and plastics are closely combined. If they are not treated, they cannot be used for aluminum recycling or for aluminum recycling. The production of plastic can only be incinerated as garbage, which not only increases environmental pollution but also wastes a lot of resources. Although both are materials that can be reused through processing, they are not easy to separate, which makes it difficult to reuse them. There are several methods for recycling aluminum and plastic in common aluminum-plastic plates: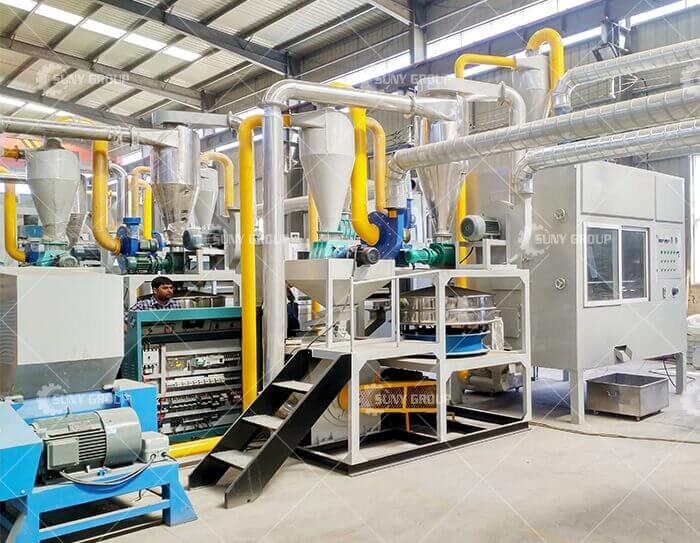 1. The waste aluminum-plastic board is mechanically pulverized and warmed and melted, and used to make items such as flower pots or sewage pipes. This method has a low recovery rate of aluminum and plastic;
2. Burn the aluminum-plastic plate and burn off the plastic to leave the aluminum material, but this will generate a large amount of polluting gas, which will affect the environment, and it will also oxidize part of the aluminum when it is burned at high temperature, which makes it difficult to get pure aluminum. ;
3. Using a hot plasma furnace, aluminum and plastic are vaporized at a high temperature of up to 15,000 degrees to 50,000 degrees. Aluminum vaporizes and sinks into aluminum ingots. Plastic vaporization rises and condenses into gelatinous materials as chemical raw materials, but this method has a huge investment. ;
4. Dilute the abandoned aluminum-plastic board in a solution containing a separation substance, and use the separation substance to penetrate the plastic film to dissolve the aluminum layer, thereby separating the aluminum foil from the plastic film, but most of the separation substances are strong acids and alkalis. These substances can affect the environment, cause corrosion to equipment, and cause dissolution of the aluminum layer, making it difficult to implement industrially;
5. Environmentally friendly waste aluminum-plastic board recycling process uses physical and mechanical sorting. After the waste aluminum-plastic board is processed by the crushing equipment, the milling device, and the electrostatic sorting equipment, aluminum powder and plastic particles are obtained to achieve the purpose of recycling aluminum.
Tags:
If you have any requirement or suggestion, please fill in the form and send to us, or contact us by E-mail:sunymachine@gmail.com,thanks!