The principle of copper-plastic separation of copper rice machine
Time:2020-02-22 11:17 Author:Suny Group
The copper meter machine is a device specially developed for recycling used wires and cables. It is mainly used for crushing and sieving copper and plastic in waste cables, so as to facilitate the recovery of copper and plastic in waste cables. The copper wire recycling machine can not only effectively treat waste cables, but also has a good recycling effect on waste automobile wires, waste household lighting wires, and waste telephone wires.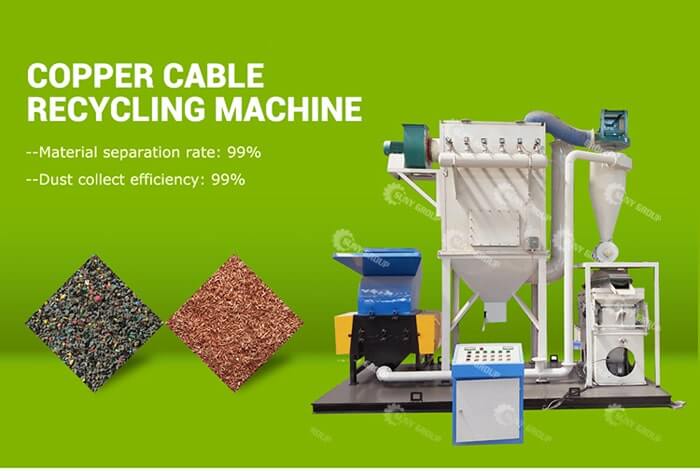 The principle of crushing and separating waste wire and cable by rice machine:
1. The waste wires and cables first enter the crusher to be crushed into small pieces of granules, and then the crushed copper particles and plastic skin are transferred to the vibrating screen by the conveyor.
2. The vibrating screen uses the principle of air flow sorting to screen copper and plastic.
3. According to the density of the copper particles and the plastic skin, the difference between the specific gravity of the two is used to separate the copper and the plastic.
The copper wire recycling machine equipment adopts the overall combined structure, integrated design, compact structure, small footprint, easy to move and transport, increasing the flexibility of the equipment and saving more space for users. At the same time, the copper wire recycling machine will not produce waste water during the separation and recovery process, and the generated dust will be collected uniformly. Therefore, the copper wire recycling machine can not only reasonably use resources, but also effectively solve the problem of environmental pollution.
Tags:
If you have any requirement or suggestion, please fill in the form and send to us, or contact us by E-mail:sunymachine@gmail.com,thanks!