The advantages of waste circuit board crushing and sorting equipment
Time:2020-04-28 12:16 Author:Suny Group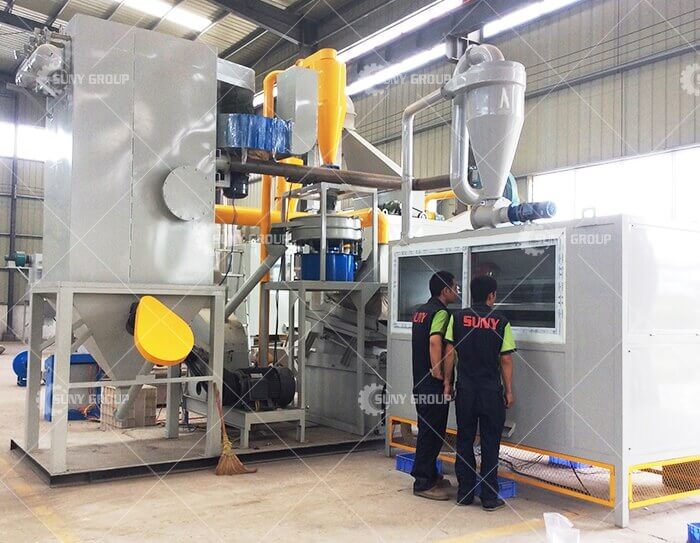 1. Compact structure, reasonable layout, stable performance and low noise.
2. The waste circuit board recycling equipment adopts two-stage crushing to make the processing capacity reach 800kg per hour.
3. The complete production line adopts negative pressure feeding to effectively reduce dust overflow.
4. The separation rate of air separation equipment is up to 97%.
5. The high-voltage electrostatic separator makes the separation finer and more efficient, and effectively controls the loss of non-ferrous metals.
6. Equipped with magnetic separation function, which can separate the iron from the material.
7. The waste circuit board recycling equipment adopts PLC to control the complete set of production lines to feed evenly and coordinate the operation.
8. The crushing room uses circulating water to control temperature and reduce noise.
9. The feed back system makes crushing more efficient.
10. The efficiency of the pulse dust removal equipment is as high as 99% or more, which effectively suppresses the dust volatilization, and fully meets the national environmental protection requirements "Comprehensive Emission Standards for Air Pollutants" GB16297-1996, without secondary pollution.
11. Set up bridges and guardrails at the height of the complete production line to facilitate maintenance personnel to monitor and maintain the equipment in real time.
Tags:
If you have any requirement or suggestion, please fill in the form and send to us, or contact us by E-mail:sunymachine@gmail.com,thanks!