Electronic waste crushing and disposal production line, professional circuit board recycling
Time:2020-05-08 11:22 Author:Suny Group
With the acceleration of the update of electronic products, the number of printed circuit boards (PCBs) that are the main components of electronic waste is also increasing. The pollution caused by waste PCBs to the environment has also attracted the attention of various countries. The waste circuit board contains nearly 20 kinds of non-ferrous metals and rare metals, with high recycling value and economic value, it is a real mine waiting to be mined.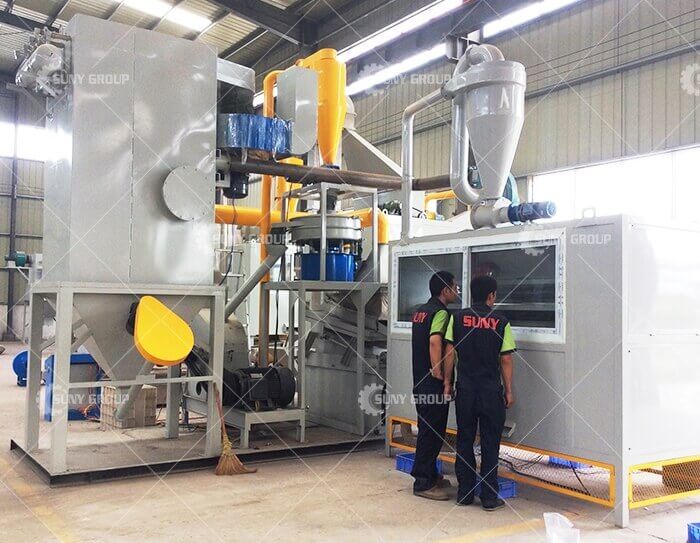 A ton of ore can lift a few grams to tens of grams of gold, and a ton of e-waste can extract about 900 grams of gold, 1500-3000 grams of silver, 60 grams of palladium gold, 130 kilograms of copper, and some tin, Nickel, and other metals. With the replacement of electronic products, the amount of scrapped electronic products is increasing year by year, and waste electronic waste is everywhere. The main components of the waste circuit are composed of epoxy resin fiber and copper, and the printed PCB circuit board contains a large amount of metal copper. The recycling of its resources has always been a hot spot for the recycling of waste electronic waste.
The method of recycling and reuse of circuit boards is physically broken, with little environmental pollution. After physical and mechanical treatment, including crushing and sorting. The waste circuit board is broken by the coarse crusher and then crushed by the fine crusher, and then ferromagnetic materials are separated by the magnetic separator, and then the electrostatic separation is used to achieve the separation accuracy. The electrostatic separation is truly green and environmentally friendly, and will not cause any second. Secondary pollution.
Tags:
If you have any requirement or suggestion, please fill in the form and send to us, or contact us by E-mail:sunymachine@gmail.com,thanks!