Product characteristics and workflow of precious metal refining equipment
Time:2020-07-17 15:26 Author:Suny Group
What are the product features and workflow of precious metal smelting equipment? The precious metal refining equipment is used to sort and refine precious metals gold, silver and palladium from electronic waste, including precious metal fragments and anode slime. The purity of precious metals can reach 99.99%.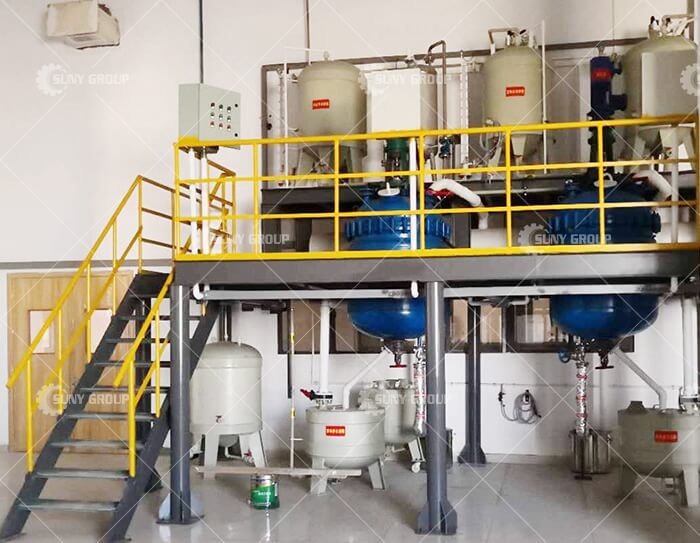 Features:
1. After the wastewater treatment, the discharge standards are met, the treatment process is short, and the environmentally friendly hydrometallurgical process is adopted to reduce environmental pollution.
2. The purity of precious metals can reach 99.99%, and the extraction rates of precious metals such as gold, silver, palladium and platinum can reach 97-99%.
3. The operation process is highly automated, saving labor costs.
work process:
Regarding the work flow of precious metal smelting equipment, the chips that cannot be disassembled and returned, the North and South Bridges, memory parts, integrated circuits, and molding effects are all collective materials with the highest amount of gold and silver in the elements, and it is a suitable part to handle them in a unified manner. You can add ozone and bake it. It is recommended that silver and palladium be independently refined to obtain chip capacity including silver and palladium, and that the electroplating board and plug-in adopt environmentally friendly eliminating agents to quickly compensate gold-plated refined gold. The surface contains silver and palladium, metal-encapsulated transistors, integrated circuits, and the metal chip chip is cut by a dedicated needle cutter, and then the valuable metals are extracted through the chip and integrated circuit diagram, including high aluminum. As for the electrolytic capacity, after drying, The aluminum metal melts directly, and glass parts such as stabilizing diodes, partial conversion diodes, etc. and plastic-sealed arc tubes are crushed. Subsequently, the valuable metal is purified, and electrolytic copper is leached into the substrate by liquid electrolysis in the organic acid cycle, and a palladium substrate (double-sided substrate mainly contains palladium, and palladium is contained in conductive holes as a copper-plated substrate) Contain and extract palladium to extract palladium.
The above are the product characteristics and work flow of precious metal smelting equipment, so when using precious metal smelting equipment, please follow the work flow. This can reduce equipment failures and extend the life of precious metal smelting equipment.
Tags:
If you have any requirement or suggestion, please fill in the form and send to us, or contact us by E-mail:sunymachine@gmail.com,thanks!