Copper wire sleeve removes machine
Time:2021-12-04 10:42 Author:Suny Group
The processing parts of the automatic wire stripping machine are composed of: 1. Wire inlet, 2. Wire inlet wheel, 3 Wire inlet pressure wheel, 4. Conduit, 5. Knife holder, 6. Wire outlet wheel, 7. Wire outlet pressure wheel, etc.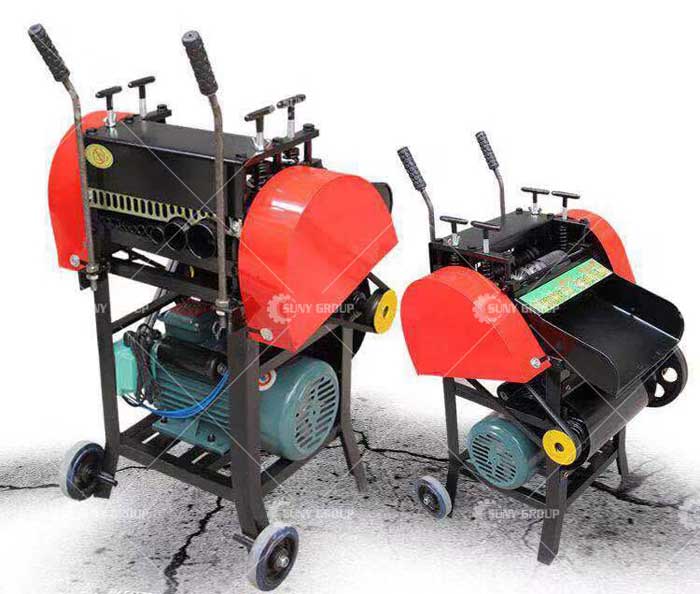 Working principle: The wire head passes through the wire inlet, through the wire inlet wheel and the wire pressure wheel to transport the wire to the pipe, and then the knife rest part will be driven by the motor according to the input length of the wire according to the inputted parameters according to the various parameters. When it rotates in place, the knife holder motor rotates counterclockwise, and the two connecting rods drive the blade to cut off the outer skin of the wire, and the outlet wheel rotates to pull out the outer skin of the wire tail. At this time, the knife rest motor rotates clockwise to loosen the blade, and the wire-in motor rotates counterclockwise to cut off the outer skin of the wire. At this time, the wire-in motor rotates clockwise to pull out the outer skin. After pulling out, the wire inlet wheel and wire outlet wheel rotate counterclockwise at the same time, and count and rotate according to the length of the wire input by the user. When the length gauge data is in place, stop the rotation, and the blade moves again to cut the wire. At this point, an automatic wire stripping process is completed. , And achieve the process of automated production over and over again.
The manual wire stripping machine, as its name suggests, is a simple wire stripping device that requires manual use with the machine. It uses three adjustable sliding handles, a blade holder and a blade to form the processing part. It has the characteristics of small size, convenient use, and low price. .
The working principle of the manual wire stripping machine is relatively simple, because its design has no scientific and technological content. First, we insert the cables to be processed between the three sliding handles and the blade holder.
Tags: