The use of plastic sorting machine in the recycled plastic industry
Time:2020-10-12 10:44 Author:Suny Group
Recycled plastics refer to plastic raw materials obtained after processing waste plastics through physical or chemical methods such as pretreatment, melt granulation, modification, etc., and are the reuse of plastics.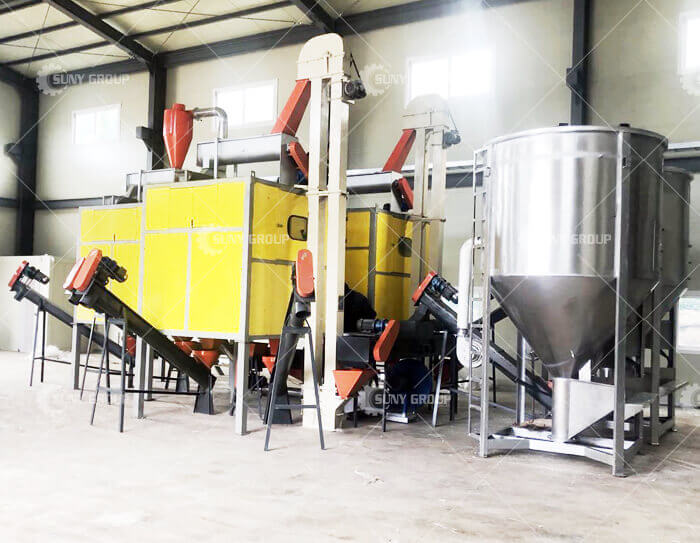 The recycled plastic obtained by the plastic sorting machine has great applications in the market:
Plastics have good processing properties and are easy to form, such as: blowing, squeezing, pressing, cutting, and welding. In production and life, many plastics can be granulated, such as waste food bags, sandals, wires, wire boards, agricultural films, tubes, barrels, basins, packing belts, and various waste plastic products can be molded and processed into plastics. The raw materials are used in the manufacture of machine parts and components through special processes and formulas; they can be used to make water pipes, agricultural machinery, packaging bags, and cement bags; they can replace some wood products; they can be used to make various plastic bags, barrels, basins, and toys. And other plastic products, living utensils.
Recycled plastics and granulated plastics have broad prospects, turning waste into treasures. Products (plastic pellets) have a wide market. Plastic companies have a large demand. A medium-sized agricultural film factory needs more than 1,000 tons of polyethylene particles per year. A medium-sized shoe factory Need more than 2,000 tons of polyvinyl chloride particles. Smaller private enterprises need more than 500 tons of particles per year. Therefore, the gap of plastic particles is too large to meet the needs of plastic manufacturers. Therefore, the market is very good and the benefits are good. . There are many sources of waste plastic raw materials. There are waste plastics where there are people. They are easy to buy and cheap (as in all regions). A city consumes more than 10 tons of various plastic products such as plastic food bags every day. There are also a lot of waste plastics in rural areas that can be recycled. The pellets have no worries about sales.
Tags:
If you have any requirement or suggestion, please fill in the form and send to us, or contact us by E-mail:sunymachine@gmail.com,thanks!