How to debug small Cable Wire Recycling Machine meter FM
Time:2019-12-02 10:28 Author:Suny Group
As a professional equipment for separating copper wire and plastic skin, small-scale dry Cable Wire Recycling Machine has been sought after since its launch. But not all Cable Wire Recycling Machines can play a good sorting effect. For the Cable Wire Recycling Machine, the criterion is whether the separation is clean and thorough. The main thing is that the copper rice obtained from the separation cannot contain a large amount of plastic skin. Needless to say, the effect of small-scale dry Cable Wire Recycling Machine processing square wires, cables and other good wires is very easy and the effect is ideal. However, it is not so easy when dealing with miscellaneous wires such as capillary and electrical wires. If the tuner is not adjusted properly, it can easily damage the copper. Affect the sorting effect.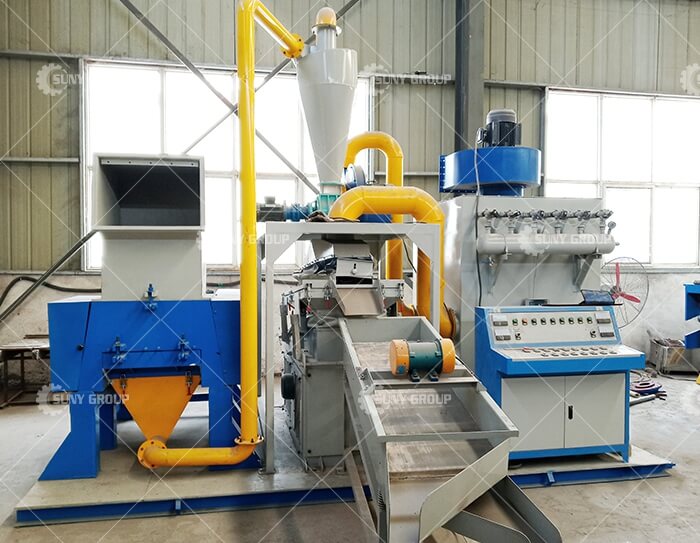 The small dry Cable Wire Recycling Machine frequency regulator mainly adjusts the amplitude and the air volume of the airflow. Especially for miscellaneous wires, the copper wire is very thin, and the weight is very small compared to the plastic sheath. If the tuners can't cooperate closely with each other, the effect will be much worse. For different lines, the cooperation of amplitude and air volume should also be adjusted. For example, a heavier plastic wire can have a slightly larger air volume and a lower amplitude. For lines with similar specific gravity, the wind volume should be slowly reduced, and the frequency of the amplitude should be faster.
The reason why SUNY GROUP's Cable Wire Recycling Machines have a good reputation in the domestic and foreign markets is not only due to our advanced equipment, but also the attention paid to details by our designers and production workers. Our technicians will teach the operator the operation details when they come to install. If there is a problem in the subsequent use, our after-sales service staff will call, video or even go directly to the customer's factory to solve it. Let all customers who buy our equipment have no worries.
If you have a demand for Cable Wire Recycling Machine equipment, please contact us.
Tags:
If you have any requirement or suggestion, please fill in the form and send to us, or contact us by E-mail:sunymachine@gmail.com,thanks!