How about the new automatic three-layer high-speed mask machine?
Time:0000-00-00 00:00:00 Author:Suny Group
With the widespread popularity of masks, more and more people have regarded masks as a daily necessity. Because the demand for masks shows a steady growth trend every year, it is very important for mask manufacturers to be able to produce high-quality masks stably and efficiently. Today we will introduce the more advanced automatic high-speed mask machine in detail.
The output of SUNY GROUP's one-to-one high-speed flat mask machine can reach 120-140 pieces per minute, and the entire mask production process is fully automatic.
For example, both sides are ultrasonically welded to the seal, then ultrasonically sealed at both ends, cut and shaped with a cutting machine; the mask is transported to two mask earband welding stations through an assembly line, and finally the mask is formed by ultrasonic welding. After the masks are made, they are transported to the flat belt production line for collection. The whole production line includes a mask plate making machine and an automatic welding machine for ear straps.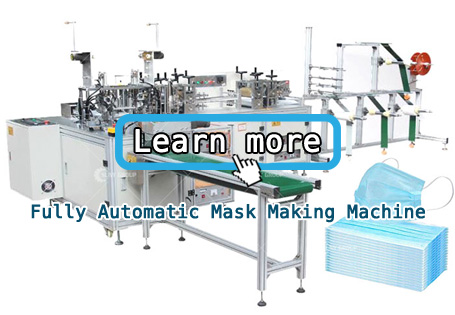 Our mask making machine has CE certification. Any buyer who purchases our equipment will provide you with equipment working video, installation manual and customer on-site technical guidance before delivery to provide you with worry-free after-sales service!