N95 automatic folding mask machine
Time:2020-07-30 14:29 Author:Suny Group
The main purpose
This product is a fully automatic machine used in the production of folding mask production lines. It uses ultrasonic technology to weld 3 to 5 layers of PP non-woven fabric, melt-blown fabric, activated carbon and filter materials, non-woven fabric welding, ear band welding, printing, and folding , An integrated fully automatic folding mask production line for mask forming and cutting. According to the different raw materials used, the masks produced can meet different standards such as FFP1, FFP2, N95, etc., and the whole process is automatically formed and produced without manual operation. It is a finished product.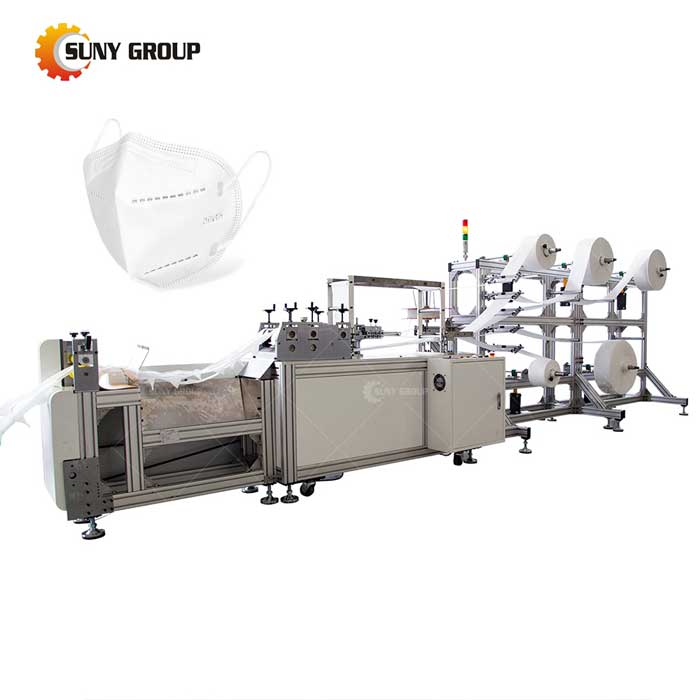 Features
Process flow:
Coil feeding → nose bridge strip feeding → non-woven fabric welding → filter plug round hole cutting (optional) → printed LOGO (optional) → ear wire welding → nose bridge sponge (optional) → half-fold → Mask forming and cutting → waste collection → finished product discharge.
Features:
The machine has a high degree of automation, no need for manual operation afterwards;
Fully automated production process, which can achieve built-in nose bridge, mask embossing, filter plug round hole, printing, ear band welding, nose bridge sponge, half-folding, mask molding and cutting at one time;
Among them, the filter plug round hole cutting function, LOGO printing function, and nose sponge function can be selected according to the actual needs of customers
Can produce 1-5 layer masks according to customer requirements
Computer program control, photoelectric detection device, high stability, low failure rate
The whole machine adopts aluminum alloy profiles and stainless steel cabinet panels, which are beautiful and firm without rust.
Tags:
If you have any requirement or suggestion, please fill in the form and send to us, or contact us by E-mail:sunymachine@gmail.com,thanks!