Aluminum-plastic panel sorting and recycling equipment
Time:2020-08-06 10:37 Author:Suny Group
Aluminum-plastic panel recycling (aluminum-plastic panel separation, aluminum-plastic tube separation): This process is mainly used for the recovery of various polyethylene aluminum-plastic panels, polychlorinated aluminum-plastic panels, aluminum-plastic tubes, aluminum-plastic bottle cap materials, and automobile decorations It can also be used for the separation and recycling of various copper-plastic products such as various wires and cables. The large materials are directly sent to the large crusher through the hook car, and then passed through the secondary crushing and the tertiary grinding decomposition. After the vibrating screen, the decomposed finished materials are sorted by a six-roll electric separator at one time and separated into plastics. And metal. The process has low cost, high efficiency, and a recovery rate of about 99.8%. The process is a physical dry separation, without heating, incineration, water and chemical raw materials, and without any environmental pollution.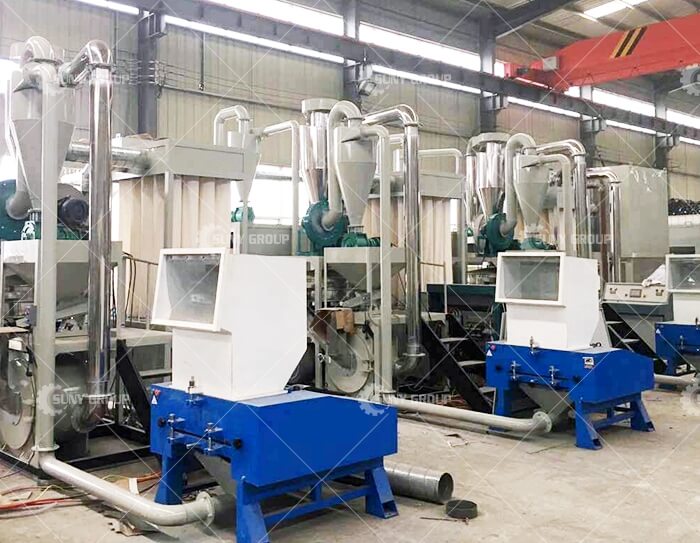 The entire aluminum-plastic board or other materials with a width of 180cm or less and a thickness of 14mm or less, as well as all kinds of agglomerates with a diameter of less than 180cm can be directly broken and separated.
The entire production line is mechanically automated, and only 1-2 people are required to operate it, which reduces the consumption of human resources.
There are multiple silos in the production line. If one part is faulty, it will not affect the production and operation of other parts.
The production line has a wide range of applications. Under certain particle size conditions, the composites with different conductivity between metal and non-metal can be sorted by changing the screen in the equipment and adjusting each part.
The production line is easy to install and has a variety of assembly methods, which can be adapted to different sites.
Tags:
If you have any requirement or suggestion, please fill in the form and send to us, or contact us by E-mail:sunymachine@gmail.com,thanks!