Mask machine is difficult to operate? Low production efficiency? Stretch cloth mask machine manufacturers tell you how to solve
Time:2020-08-15 11:48 Author:Suny Group
The operation process of the mask machine is too messy, the production process of the mask has these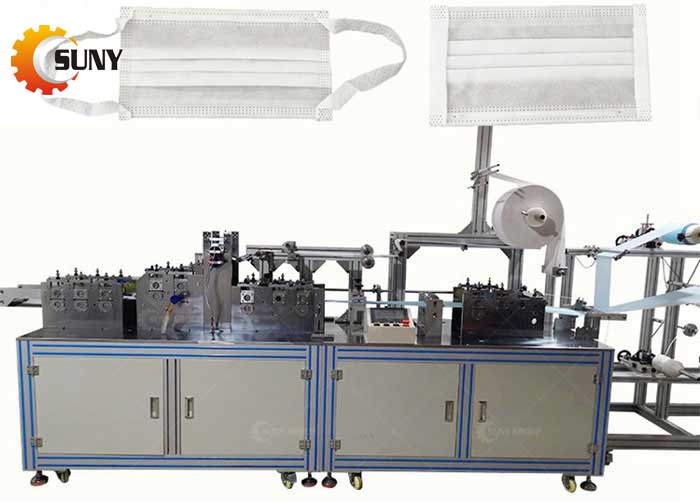 1. The inner layer mask is formed, and the styling cotton is hot pressed into the shape of the mask;
2. The outer layer mask is formed, which can be made into sheet masks using materials such as non-woven fabrics, melt-blown fabrics, and activated carbon non-woven fabrics;
3. Multi-face mask pressing, pressing the inner and outer layer masks, usually three to five layer masks are formed;
4. Cut the edges, cut the excess margins of the pressed mask, and leave the mask shape intact;
5. The nose line fits, the mask uses the nose line to adjust the wearing position, and can use aluminum strips, rubber strips and other fixed materials;
6. Earband welding, weld the earbands to both ends of the mask. There are many kinds of materials for the earbands, and you can weld 1 to 2 pieces;
7. Mask processing, packaging, disinfection and other processes
Production workflow of stretch cloth mask machine:
Automatic unwinding-nose bridge feeding-ultrasonic welding-logo printing (optional)-folding forming-ultrasonic welding & cutting-finished product output
The elastic cloth mask machine is a fully automatic machine used to produce non-woven earband mask production line. It adopts ultrasonic technology. The whole production process does not require manual participation. The finished product is fully automated. It has high efficiency and good stability, which can save costs for enterprises.
Tags:
If you have any requirement or suggestion, please fill in the form and send to us, or contact us by E-mail:sunymachine@gmail.com,thanks!