Introduction of automatic stretch cloth folding mask machine equipment
Time:0000-00-00 00:00:00 Author:Suny Group
The fully automatic stretch cloth folding mask machine is a stretch non-woven ear band folding mask machine independently developed by Qin Taisheng. It is a fully automatic machine used to produce non-woven cloth ear band mask production lines. It adopts ultrasonic technology, and the whole production process does not require manual participation. Fully automatic production of finished products, high efficiency and good stability, can save costs for enterprises.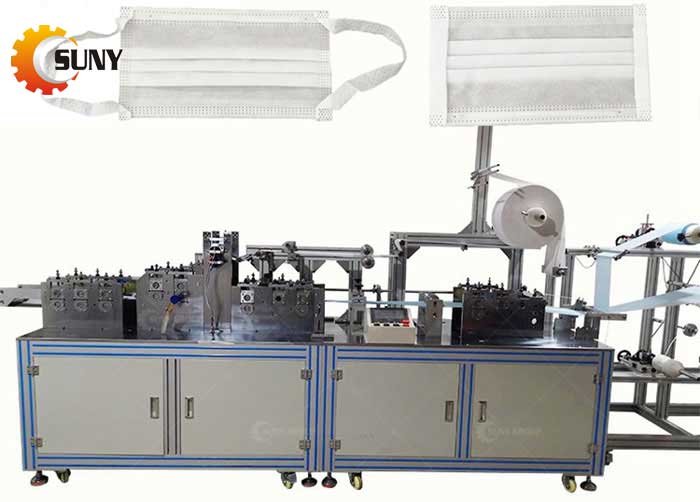 2. Process flow of fully automatic stretch cloth folding mask machine equipment
Automatic unwinding-nose bridge feeding-ultrasonic welding-logo printing (optional)-folding forming-ultrasonic welding & cutting-finished product output
3. Adapt to product specifications
Bond 3-6 layers of PP non-woven fabric, activated carbon and filter material, and cut out the body of the folded mask. N95 folding masks are used for occupational respiratory protection, including certain microbial particles (such as viruses, bacteria, molds, Bacillus anthracis, Mycobacterium tuberculosis, etc.).
Fourth, the basic configuration parameters of the automatic stretch cloth folding mask machine equipment
Power supply: AC220V 50HZ
Air pressure: >0.6MPA
Efficiency: 60~70psc/min ±10%
Yield rate: ≥95%
Power: 9KW
Size: 4000*2200*1410mm
Machine weight: 2000KG
Five, the characteristics of automatic stretch cloth folding mask machine equipment
1. Automatic tension control of raw materials to ensure that the tension of raw materials is balanced.
2. Photoelectric detection of raw materials to avoid errors and reduce waste.
3. Frequency conversion control can adjust the operating speed of the equipment as required.
4. High degree of automation, simple operation, only need to unload and arrange finished products.
5. The whole machine adopts sheet metal + aluminum alloy structure, which is beautiful and firm without rust.
6. Modular and user-friendly design to facilitate maintenance.
7. PLC control, Chinese and English operation interface