Introduction to the production process and equipment of disposable flat masks
Time:2020-08-18 11:13 Author:Suny Group
Most flat masks are single-use masks. This kind of mask has very good air permeability, can filter toxic gases, can keep warm, can absorb water, is stretchable, and will not be messy. It has a good feel and is quite soft. Compared with other masks, the texture is lighter and can be restored after being elastically stretched. The price is more suitable for mass production; its materials generally include non-woven fabrics, filter paper, and functional lead-containing carbon cloth. In this issue, the editor of Lihan will introduce to you which mask machines are needed for the production process of one-time flat masks.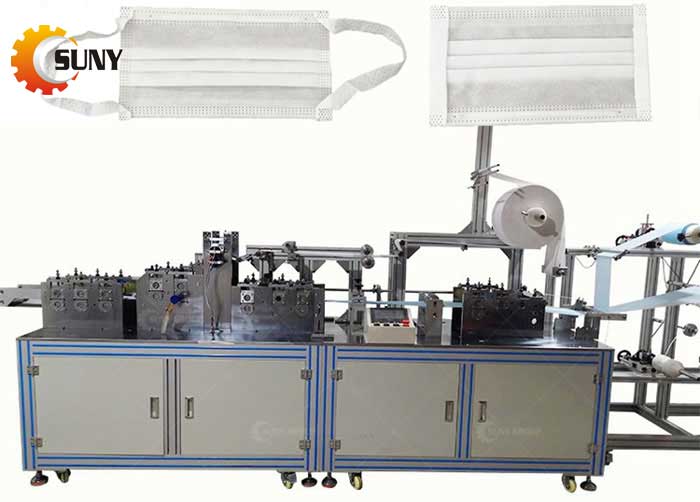 Disposable mask molding:
It is mainly a machine that uses the principles of ultrasonic welding and automatic edge sealing to complete the composite molding of flat masks with multilayer materials. The mask body machine is a machine for the automatic production of multi-layer flat mask products. It can use 1~4 layers of PP spun spunbond non-woven activated carbon and filter materials. The whole machine is from the raw material feeding to the nose line insertion * into the seal The finished products of side-cutting are all automated operations in one line. According to the materials used, there is no need to deliberately meet different standards such as N95, FFP2, etc.
Disposable mask earband welding:
It is a step of welding the ear straps on the semi-finished masks produced by the mask machine. According to the requirements of the process, it is divided into the inner ear upper strap and the outer ear upper strap. Lihan Machinery adopts ultrasonic welding technology* to develop two products including the first generation of inner ear band spot welding machine and outer ear band spot welding machine, which are automated from feeding to discharging, with high efficiency and saving manual welding efficiency* It is the best choice to produce flat masks and one-time mask ear straps.
Tags:
If you have any requirement or suggestion, please fill in the form and send to us, or contact us by E-mail:sunymachine@gmail.com,thanks!