Aluminum-plastic separation and recycling equipment reduces environmental pollution and promotes development
Time:2020-08-18 11:10 Author:Suny Group
Everyone knows that many aluminum-plastic products in our lives, such as milk cartons, capsule plates, aluminum-plastic wrapping paper, toothpaste skins, etc., are all household waste that can be recycled. If it is thrown away at will, it will cause environmental pollution. How to recycle this domestic garbage? The country advocates environmental protection, so what we have to take is the environmental protection route. We produce aluminum-plastic separation and recycling equipment to reduce environmental pollution and promote social development.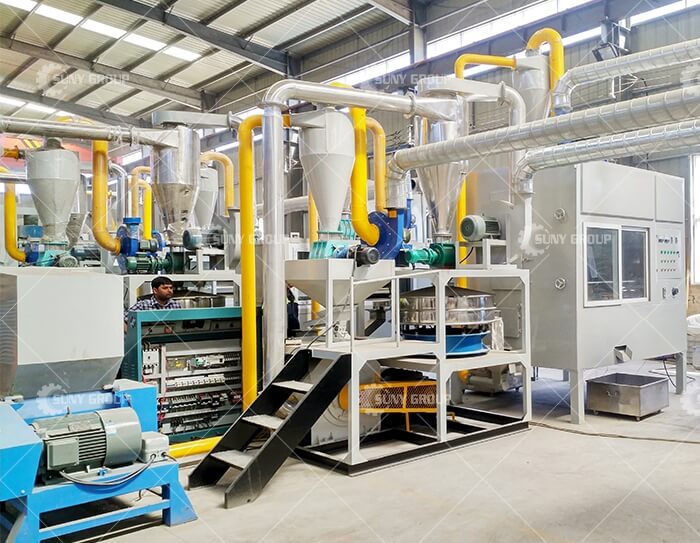 The aluminum-plastic separation and recycling equipment recycles the aluminum-plastic household garbage, which is crushed, electrostatically sorted, and then separated into metal and non-metal. First, a large amount of materials are sent into the crusher for secondary crushing and tertiary grinding dissociation, and then the materials that meet the particle size requirements are screened by rotary vibration, and then plastic and aluminum are separated by a double-roller electrostatic separator. All the processes are physically separated, there is no heating and burning water and chemical, so it is environmentally friendly and there is no pollution. The process has low cost, high efficiency, and a separation rate of 99.8%. And the equipment is a fully automatic production line, saving labor, only one or two are enough to operate the machine. The production line is widely used, easy to install, has various assembly methods, and can be adapted to different places.
Aluminum-plastic separation and recycling equipment reduces environmental pollution and promotes development
With the increasing awareness of human resources and environmental protection, we have begun to advocate the construction of a green, environmentally friendly and energy-saving society. The international and domestic societies have begun to implement new ideas for energy conservation, emission reduction, and green environmental protection. The emergence of aluminum-plastic separation and recycling equipment has effectively solved the environmental pollution caused by aluminum-plastic products, effectively improved the quality of the environment, and realized the coordinated development of society, economy and environment.
Tags:
If you have any requirement or suggestion, please fill in the form and send to us, or contact us by E-mail:sunymachine@gmail.com,thanks!