Characteristics of fish mask machine and compliance with standards
Time:2020-08-24 11:24 Author:Suny Group
Fish masks need to comply with EU EN149:2001 P3 standards. It is mainly used to protect households from extremely fine industrial dust and metal smoke during welding operations. More than 99% has a filtration efficiency, which is more suitable for hot and humid environments or long-time wear protection; suitable for construction, quarry, textile, grinding, metal casting, pharmacy, electronics, pharmacy, material handling and grinding and other industries that generate dust . It also has a good dust prevention effect on sandstorms.
The SUNY GROUP fish mask machine is a fully automatic machine for the production of folding mask bodies. It uses ultrasonic technology to bond 3 to 5 layers of PP non-woven fabric, activated carbon and filter materials, and cut out the folded mask body. According to the different raw materials used, the masks produced can also meet different standards such as FFP1, FFP2, N95, etc. The ear straps are elastic non-woven fabrics, which make the wearer's ears comfortable and stress-free. The mask filter cloth layer has a good filtering effect and perfect It fits Asian faces and can be used in high-pollution industries such as construction and mining.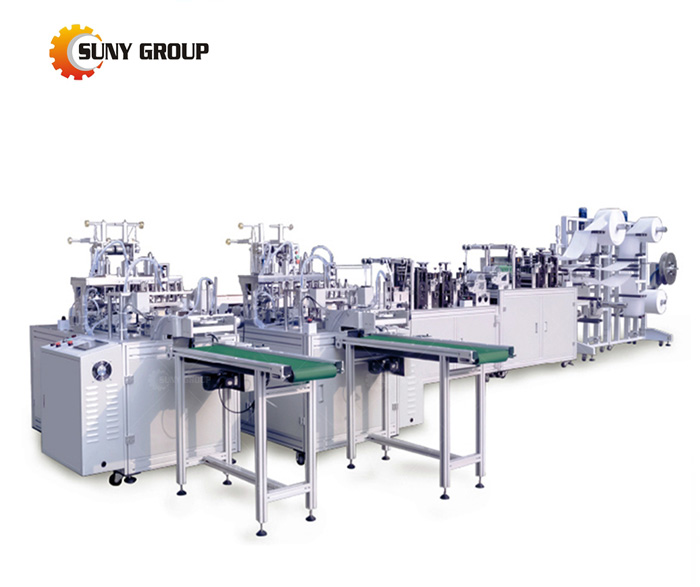 Functions and characteristics of fish mask machine equipment:
1. Folding mask bodies such as fish-shaped folding dust mask machine can be processed in one time.
2. PLC automatic control, automatic counting.
3. Simple adjustment device, easy to change materials.
4. The mold adopts extraction and replacement method, which can quickly replace the mold and produce different models of masks.
5. The whole machine is made of aluminum alloy, which is beautiful and firm without rust.
6. Advanced feeding and receiving device.
7. High stability and low failure rate.
Tags:
If you have any requirement or suggestion, please fill in the form and send to us, or contact us by E-mail:sunymachine@gmail.com,thanks!