What machine is needed to produce pm2.5 masks?
Time:2020-08-25 10:34 Author:Suny Group
Although PM2.5 is only a small component in the earth's atmosphere, it has an important impact on air quality and visibility. PM2.5 has a small particle size, is rich in a large amount of toxic and harmful substances, stays in the atmosphere for a long time, and has a long transportation distance, so it has a greater impact on human health and the quality of the atmospheric environment. Wearing a mask when going out has become a habit. The hot sale of masks. Many merchants have set their sights on the production equipment, but they are troubled by not understanding this machine. Then the editor of Qin Taisheng automatic mask machine manufacturer will tell you what machine is needed for PM2.5 mask production. equipment.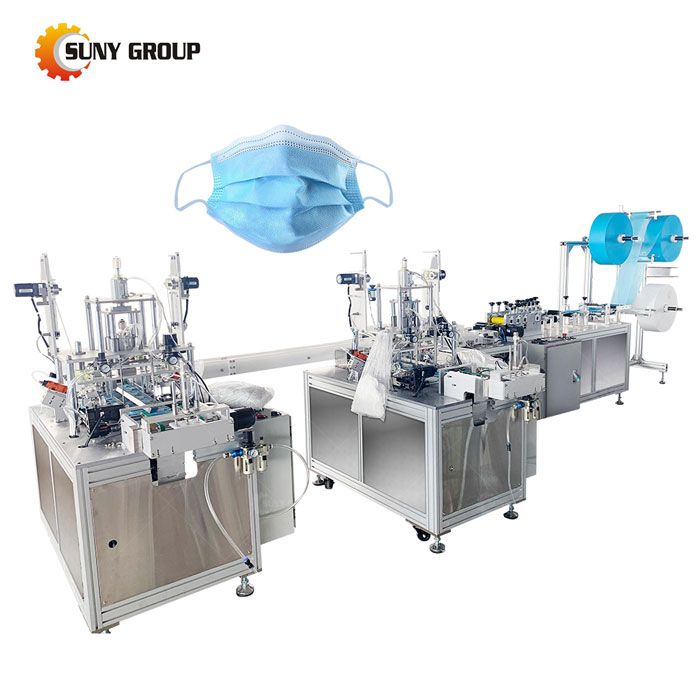 The pm2.5 automatic folding mask machine is a fully automatic machine used to produce folding mask production lines, using ultrasonic technology. The whole set of equipment is integrated and fully automatic folding production technology through non-woven fabric welding, ear band welding, printing, half folding, edge sealing, rolling cutting, etc., and can process 3M 9001, 9002, etc. and other folding masks. The raw materials selected according to product requirements can produce masks that meet different standards such as FFP1, FFP2, N95, etc. The whole production process does not require personnel to participate, and the finished product is fully automated.
Glue 3~6 layers of PP non-woven fabric and activated carbon filter material, and cut out the body of the folded mask. The pm2.5 dish mask is used for occupational respiratory protection, including certain microbial particles (such as viruses, bacteria, molds, anthracis, tuberculosis, etc.).
Automatic unwinding-feeding of nose bridge-ultrasonic welding-LOGO pad printing-ear band welding-folding forming-ultrasonic welding and cutting + finished product output.
We are a close team full of innovation and development that are always active. With a strong automation technology R&D team and excellent innovation power, we wholeheartedly dedicate the most complete mechanical equipment to you. Challenges and opportunities coexist. We are full of confidence. Working together, united and enterprising, faster, better and stronger is our goal.
Tags:
If you have any requirement or suggestion, please fill in the form and send to us, or contact us by E-mail:sunymachine@gmail.com,thanks!