Can waste wire recycling equipment separate copper and plastic cleanly?
Time:2020-09-18 11:55 Author:Suny Group
Waste wire recycling equipment specializes in processing automotive cables, communication wires and other wires and cables. After crushing, the vibration separation can be completely separated from copper and plastics, achieving the purpose of comprehensive utilization and high economic benefits. Now more and more attention is paid to environmental protection, which can not only re-use resources in the production process, but also reduce environmental pollution.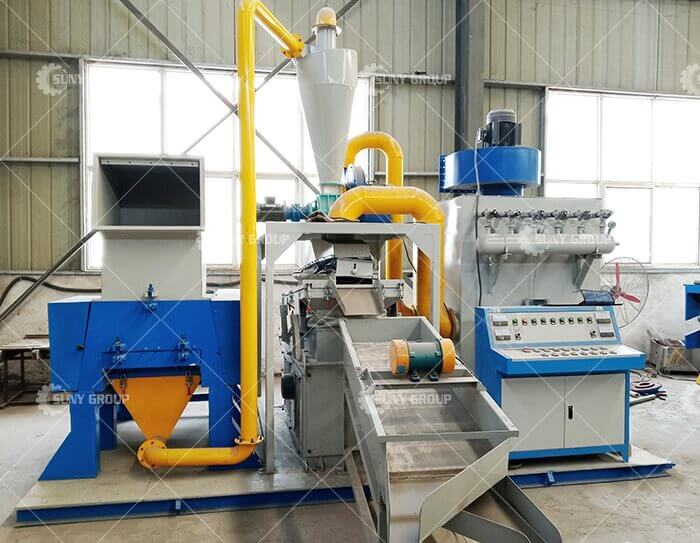 First of all, waste wire recycling equipment not only reduces pollution to our environment, but also brings great convenience to our lives. With high automation, good operation and good stability, the power supply can be used. Using electrostatic separators, the recovery rate of copper is close to 98%. Realize the purpose of double recycling and comprehensive utilization. The whole process is mechanically separated and mechanically separated, without water, smoke emission, and dust pollution. It is an environmentally friendly recycling equipment. After the waste copper wire is processed by the dry-type copper rice machine, the copper and plastic are completely separated to achieve the purpose of comprehensive utilization, which has higher economic benefits and better development prospects for the project.
The role of waste wire recycling equipment in the separation of copper is obvious. We are a manufacturer of waste wire recycling equipment. Our waste wire recycling equipment is your good choice. Customers all over the country are welcome to come to try the machine, and the trial machine is free. We look forward to working together .
Tags:
If you have any requirement or suggestion, please fill in the form and send to us, or contact us by E-mail:sunymachine@gmail.com,thanks!