Is the recovery rate of copper sorted by circuit board recycling equipment high
Time:2020-09-22 12:00 Author:Suny Group
Circuit board recycling equipment crushes and separates circuit boards that have or have not been removed from electronic components, and effectively separates the metal and non-metal in the circuit board. PCB (printed circuit board) scraps and scraps with electronic components. Material form: frame shape, slender strip shape, leftover material in corners or whole PCB. Material type: rigid PCB hard board, mainly multilayer board, with copper content as high as 50%. Material size: length≤800mm, width≤690mm, thickness≤5mm.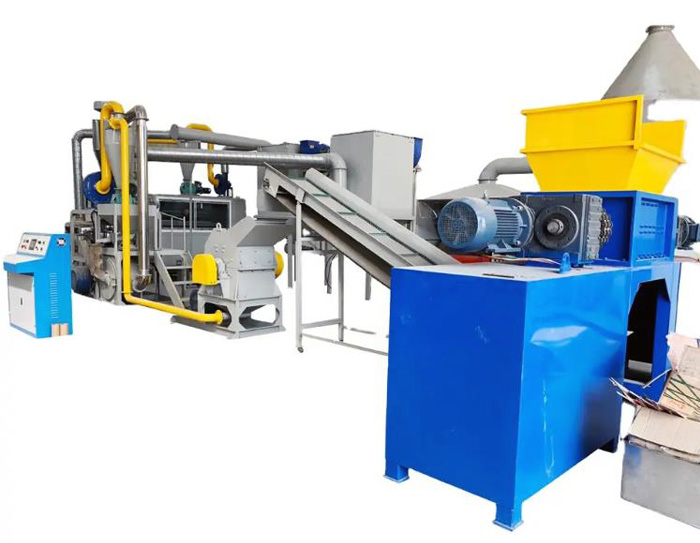 The circuit board recycling equipment adopts hob-type double-shaft shredding for the first-stage crushing, hammer-type combined crushing for the second-stage crushing, cutter-disc crushing mechanism for the third-stage, and water-cooled crushing cabinet for the second-stage and third-stage at the same time. Three-stage pulverization makes the material into powder (30-80 mesh), which is then sorted by air-flow sorting, specific gravity sorting, and high-voltage electrostatic sorting equipment. The processing capacity is large, the sorting effect is good, and the energy consumption is less. One feeding is completed by multiple machines. The circuit board recycling equipment is all controlled by PLC, which ensures the quality of recycled copper and prevents secondary pollution. The copper recovery rate after separation and sorting Can reach more than 99%.
Circuit board recycling equipment adopts three-stage pulverization for waste circuit board processing, making it a mixed powder of circuit board resin fiber powder and copper powder, and then separates metal powder and resin fiber powder by wind specific gravity separation and high-voltage electrostatic separation. , In order to prevent dust pollution during processing, an air pulse dust removal device is added behind the airflow specific gravity separator, which effectively solves the problem of dust pollution.
Tags:
If you have any requirement or suggestion, please fill in the form and send to us, or contact us by E-mail:sunymachine@gmail.com,thanks!