Maintenance and maintenance measures of stretch cloth folding mask machine equipment
Time:2020-09-22 12:05 Author:Suny Group
Whose machine can guarantee that there will never be any failure? I think it should be very few! Even a good machine from a good manufacturer has zero chance. So how should the mask equipment be maintained? See what the editor of Kuaiyuda says.
In order to ensure the smooth progress of the work of various manufacturers, Kuayuda analyzed the following reasons and asked companies that encounter or are using the equipment to provide a set of effective maintenance measures: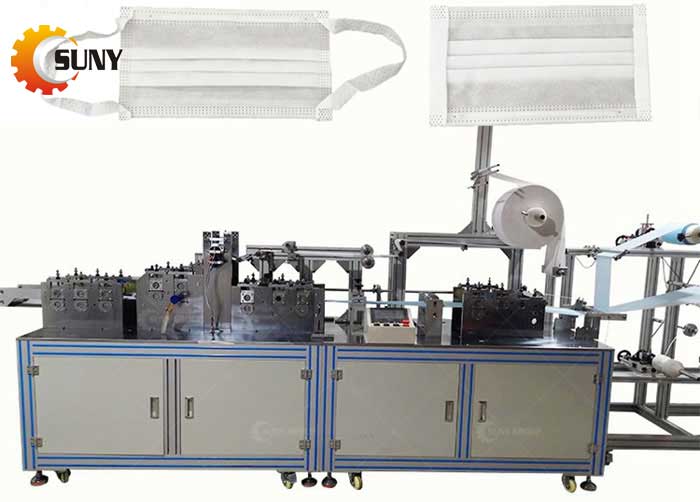 The first step: learn the fault status of the product.
Step 2: According to the user's fault description, analyze the causes of such faults.
Step 3: Open the product to be repaired, confirm the damaged device, and analyze the feasibility of repair and restoration.
Step 4: According to the working position of the damaged device, read and analyze the working principle of the circuit to find out the cause of the damaged device.
If there is a problem with the mechanical equipment, the manufacturer of the equipment can be notified as soon as possible, and the manufacturer can help to troubleshoot the equipment. After all, the manufacturers have rich experience, and if necessary, the manufacturers will send off personnel to carry out on-site repairs.
Kuayuda has sophisticated production and processing equipment. We continue to introduce excellent domestic and foreign production and processing technologies and integrate them into our own production technologies to achieve independent innovation capabilities, improve product competitiveness, and maintain market position.
Kuayuda has a rigorous assembly team, "one tree and one bodhi, one sand and one world." Everything in life is originally made up of details, and details are often overlooked by people, but they don't know these inconspicuous details. It is the landscape, the flowers in the hand, and the sunshine in the arms. Small things often play a major role.
SUNY GROUP Automation Equipment Co., Ltd. is a professional equipment manufacturer integrating scientific research, manufacturing, sales and service. We have automated R&D and production of three major types of professional machinery and equipment: medical labor insurance mask machine series, non-woven beauty product manufacturing machine series, non-woven hotel aviation product manufacturing machine series, folding mask head spot welding machine, folding mask head wearing nose Wire spot welding machine can be customized according to customer requirements of various non-standard equipment, welcome customers in need to inquire.
Tags:
If you have any requirement or suggestion, please fill in the form and send to us, or contact us by E-mail:sunymachine@gmail.com,thanks!