The manufacturer of the double shaft shredder briefly describes the precautions for the operation of the shredder
Time:2020-09-26 11:39 Author:Suny Group
The shredder equipment is not allowed to hang the transmission belt, drip oil, solve and remove the drawbacks. Another is to check, start to check whether the anchor bolts of the motor rotor rolling bearing box can be loosened, and then check whether the weight of each group of hammers can be symmetrical. For head scanning boring, the hammer head scanning boring position should be grinded low. The speed ratio is not enough. Start to check whether the working voltage is too low, and then check whether the wire entanglement number is too small. The primary and secondary is to see whether the cutting is too much or whether it is unbalanced.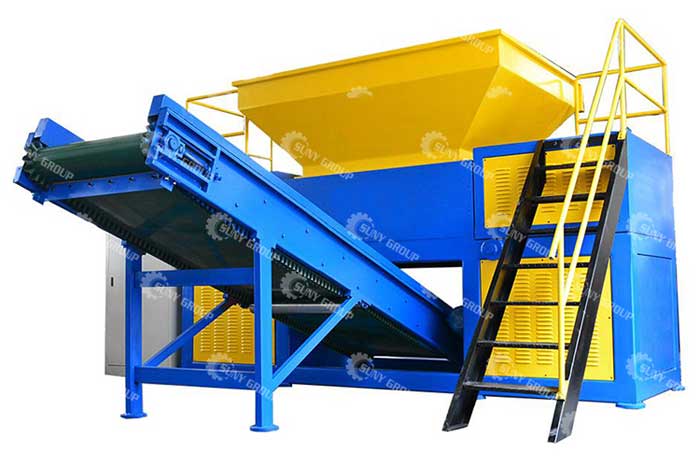 When assembling the shredder blade, the nut must be tight and moderately loose. Too loose woodworking saw blades may run off during rotary cutting, and woodworking saw blades that are too tight may cause injury or deformation to affect cutting. Check the axial bearing of the mechanical equipment spindle bearing on time. Vibration coincides with the code in the middle of the blade of the swing maintenance shredder.
Before cutting the shredder blade, the operator should wear protective equipment as much as possible and check whether the sawing machine protective cover is complete. After the shredder blade is assembled securely, the speed should be high for 30 seconds, and the cutting position can be started after the uniformity is clear.
The aluminum alloy head of the double-shaft shredder has a sharp and sensitive blade, so during the movement, assembly and removal of the blade, try to be careful to maintain the aluminum alloy head to avoid damage. Remove the dirt on the spindle bearing and flange piece. The flange piece should be leveled, cleaned and vertical to the shaft.
Tags:
If you have any requirement or suggestion, please fill in the form and send to us, or contact us by E-mail:sunymachine@gmail.com,thanks!