Why are small Cable Wire opportunities favored by so many investors?
Time:2020-10-11 09:59 Author:Suny Group
Nowadays, more and more investors are willing to invest in copper rice machine equipment, and use copper rice machine equipment to achieve the purpose of starting a business and get rich. So why are small copper rice machines favored by so many investors? Investing in small copper rice machines can really get you Is it profitable? The development of the copper rice machine is due to the environmental and economic benefits of the small copper rice machine, but also because of its own advantages and rapid development.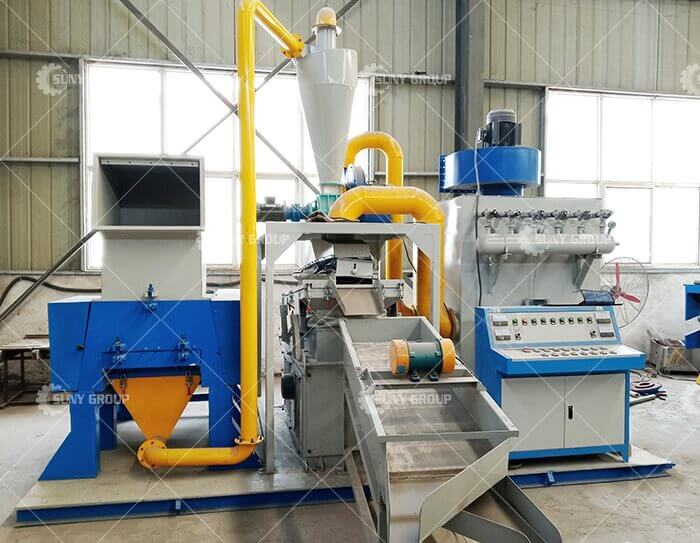 Many people have summed up on the Internet how to classify the garbage in daily life, but there are still many things that have not been classified. For example, what kind of garbage should the waste wires in our daily life belong to? The arrival of small copper rice machines has solved it. Where to go for waste wires and cables. To a certain extent, the small copper rice machine has contributed to garbage classification.
The copper rice machine can separate copper particles and plastics the size of a copper rice machine from all kinds of waste electrical cables, and the small copper rice machine has high separation effect and good efficiency. The separated copper can be sold or recycled. This environmentally-friendly wealth-creating equipment has a small investment, high return, small footprint, and can be placed at will. The total area of ​​raw materials, equipment, and finished products is small.
The wire and cable industry has a wide range of products and a wide range of applications, involving industries such as electricity, construction, communications, and manufacturing. It is called the "artery" and "nerve" of the national economy. It is used to transmit electrical energy, transmit information, and manufacture various motors, Instruments, meters, and basic equipment that are indispensable for electromagnetic energy conversion, and the efficient recovery of waste wires and cables are of great significance to the effective use of resources and the establishment of a circular economy. As the main artery in the building, the green and environmental protection of wires and cables is also very important. After the cable is eliminated, it must be disassembled and assembled by professionals, and then processed in a unified manner in a professional wire and cable recycling company. It must be a formal enterprise registered by the state for industry and commerce, so as to achieve safety, environmental protection, and legality.
Tags:
If you have any requirement or suggestion, please fill in the form and send to us, or contact us by E-mail:sunymachine@gmail.com,thanks!