One for one flat mask machine | Fully automatic production of flat masks can be realized
Time:2020-10-11 10:05 Author:Suny Group
One for one automatic flat mask machine is suitable for producing disposable medical masks. Including automatic raw material feeding, automatic conveying, cutting off the nose bridge, mask edge welding, folding, ultrasonic fusion, forming, cutting and other full-process automation, completing the entire production process from roll raw materials to finished masks.
It consists of a mask body machine and an ear belt machine. The unique design of the automatic conveyor belt and the in-line machine helps companies improve production efficiency and reduce labor costs. The whole machine is automated from feeding, nose line insertion, edge sealing, and cutting of finished products. It only needs one person to operate, and the whole process is fully automated.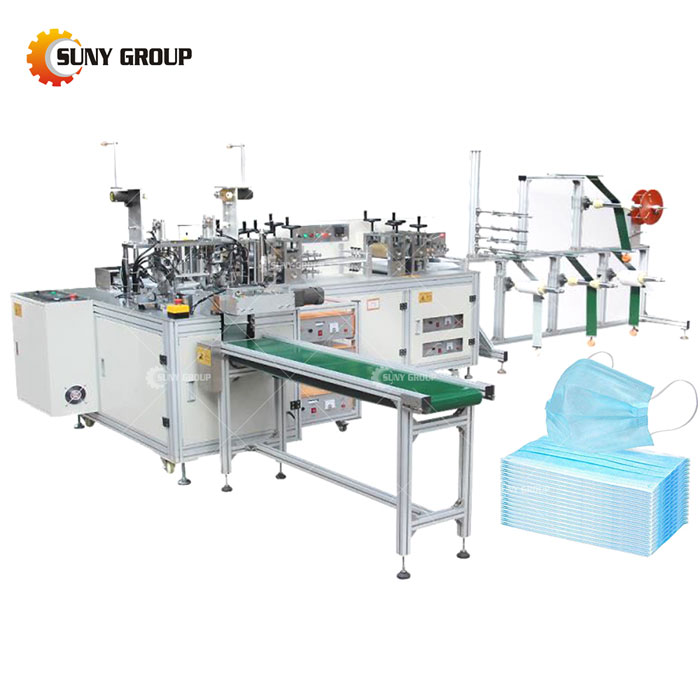 Features
1. Using ultrasonic welding technology, the finished product is beautiful, hygienic and environmentally friendly.
2. The entire production line is automated and efficient and labor-saving from feeding, nose line insertion, edge sealing, and cutting of finished products.
3. The frame structure is made of aluminum alloy. The key parts are made of stainless steel. The whole line has the characteristics of non-rusting, durable, easy to clean and beautiful.
4. Computer PLC programming control, servo drive, high degree of automation. High stability, low failure rate and low noise.
5. Automatic tension control of raw materials to ensure balanced tension of raw materials.
6. Photoelectric (optical fiber) detection of raw materials, precise control.
7. The machine is compact, small, and does not occupy space.
Mechanical characteristics
1. Automatic tension control of raw materials. Ensure that the tension of raw materials is balanced.
2. Photoelectric detection of raw materials avoids errors and reduces waste.
3. Smart counting.
4. Replacing the mold can produce masks of different sizes and styles.
5. The whole machine adopts aluminum alloy structure, which is beautiful and firm without rust.
Tags:
If you have any requirement or suggestion, please fill in the form and send to us, or contact us by E-mail:sunymachine@gmail.com,thanks!