Recycling of waste wires and cables requires a dry Cable Wire Recycling Machine
Time:2020-10-16 11:40 Author:Suny Group
The recycling of waste wires and cables requires a dry Cable Wire Recycling Machine. If the cables cannot be used normally, they will be treated as waste. Some cables are returned to the factory for repair and replacement, and others are not available. Replaced ones are generally classified as scrap copper for disposal. During disposal, they are handed over to waste material recyclers in various regions for purchase and disposal. Dry-type copper rice machines are environmentally friendly equipment that specializes in processing waste wires and cables, turning waste into treasure and improving waste resources. Utilization rate. What are the benefits of choosing a dry copper rice machine to process waste wires and cables?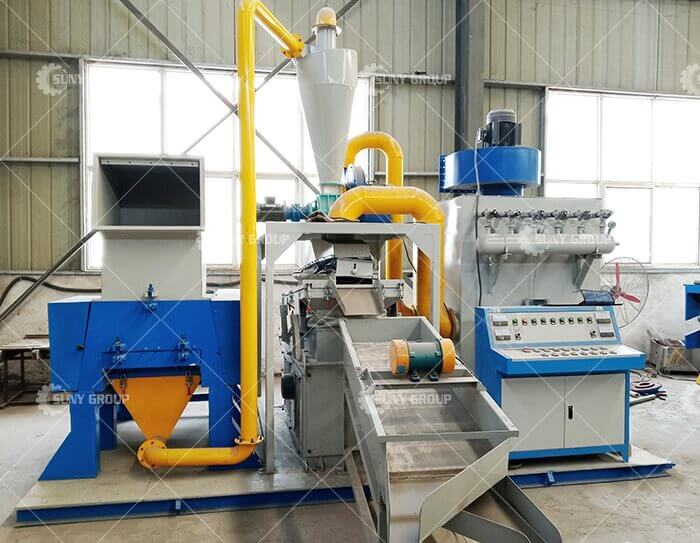 1. Conducive to the reduction of price and cost
In addition to recycling waste wires and cables, it can also process and process the extracted "treasures" to a certain extent, and convert them into copper rice and plastics as usable resources. The new wire separation technology of the dry copper rice machine can reduce costs and bring actual benefits to users who actually use the product.
2. Conducive to the improvement of the environment
When people are not aware of the idea of ​​resource recycling, these waste cables will be randomly ascattered in a corner and pile up higher and higher, and occupy natural space, so that they directly expose the natural environment and cause serious harm. The appearance of the dry copper rice machine has rescued the environment from pollution, and has greatly reduced environmental pollution through recycling, separation and classification.
3. Conducive to resource conservation
Scrap cables and wires are generally lifeless cables and wires made of copper wire or aluminum wire processed by insulating rubber. Through the method of copper-plastic separation by dry-type copper rice machine, relevant metals and plastics can be separated, and waste can be turned into treasure. Recycling again, resulting in the maximum use of existing resources, high utilization rate to achieve resource consumption.
Tags:
If you have any requirement or suggestion, please fill in the form and send to us, or contact us by E-mail:sunymachine@gmail.com,thanks!